15 carefully selected Chinese import sites! This is the EC site where you can earn money by importing and reselling!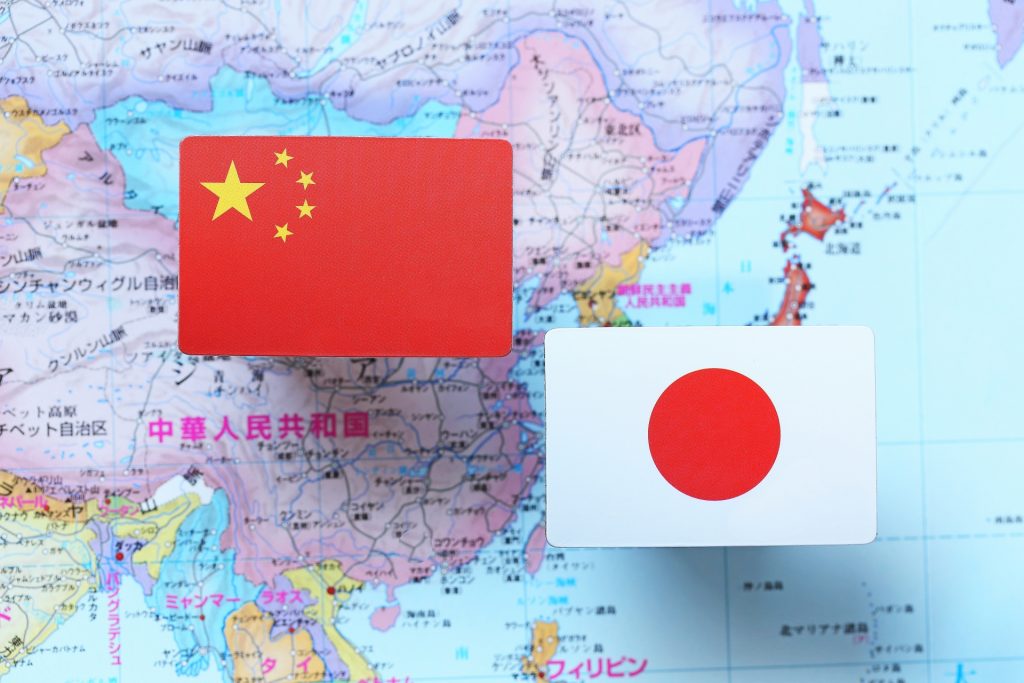 Nowadays, when cross-border e-commerce (overseas e-commerce) is becoming a trend, it seems that the barriers between global distribution have become lower. Among them, the scale of the Chinese market is the world's largest, exceeding 120 trillion yen in 2019 and still growing. This is more than double the 50 trillion yen of the United States in second place, and now China is the world's largest e-commerce market, both in name and reality.
In such a trend, it has been about 10 years since the so-called Chinese import resale business, which purchases products from China and sells them on Amazon, Yahoo Auctions, Mercari, etc., has become common in Japan.
The appeal of products made in China is the low price. Even now that the Chinese economy is developing and has the second largest GDP in the world, it is possible to buy products for about one-third the price of Japanese products, so the import resale will continue to increase in the future.
In this article, for people interested in reselling imports from China, Major Chinese import sites where you can purchase products while staying in Japan to introduce. Especially for those who are serious about importing and reselling from China as a business, it is very helpful information, so I recommend reading it to the end.
Three ways to import from China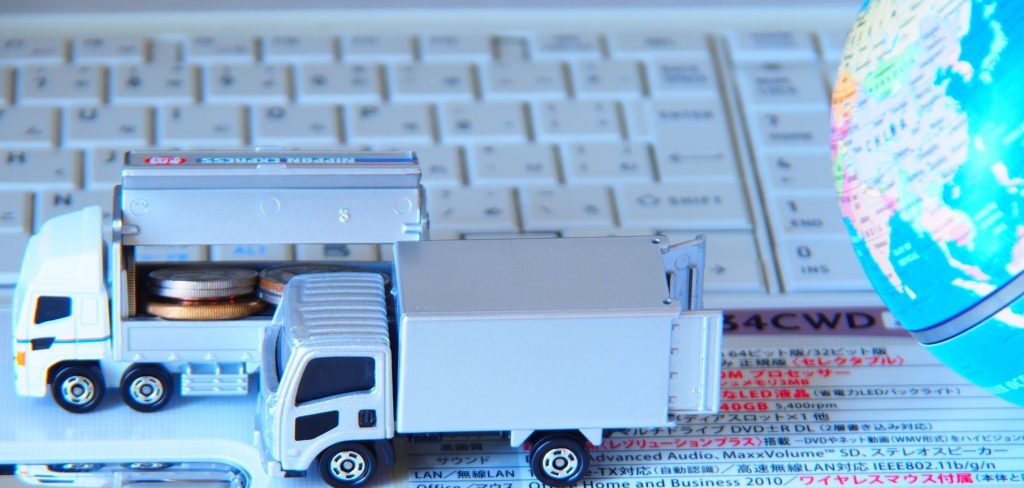 Nowadays, both individuals and companies can easily import products from overseas by using e-commerce sites. When you hear the word "import," you may have an image of it being difficult, but that was a long time ago.
The method of importing from China can be roughly divided into There are 3 ways. Depending on how you do it, the amount of work and the required cost will change, so you should consider it according to your own circumstances.
Personal Import
I think everyone has shopped at an EC site such as Amazon or Rakuten Ichiba in Japan at least once.
I will tell you the details later, but depending on the Chinese import site, you can browse and purchase in Japanese, and you can easily make payments with a credit card. As the cross-border e-commerce environment improves, the number of Japanese people who import and resell products from China, from side jobs to full-scale businesses, is increasing year by year.
Ask a Chinese partner
There is a way to use a Chinese partner when importing from China is a little full-fledged business or when using an import site that is difficult to understand in Japanese. Not everyone has Chinese friends or acquaintances who are familiar with China who can help, but Two easy ways to find a partner.
Using the Chinese Partner Recruitment Board
There are several bulletin boards dedicated to Chinese partners, and you can find them regardless of whether you live in Japan or China. If you feel uneasy about a little complicated content, such as translation, as well as local product shipping procedures, it is reassuring to have a partner.
Using crowdsourcing sites
Similar to the bulletin board, it is convenient to search for collaborators as an outsourcer because Japanese who have studied in China and Chinese who live there are also registered on the crowdsourcing service. If you specify the job you want to ask for, conditions such as remuneration, applicants will contact you, so you can choose the person you think is suitable from among them.
Using a Chinese import agency
If you are going to import and resell from China in earnest as your own business, we recommend using a Chinese import agent who is a professional importer.
You can leave all the work related to import procedures to us, and even if something goes wrong, you can expect a smooth solution to the problem. Although it costs a little agency fee, there will be a big merit that you can expand your business by devoting yourself to product research and sales activities.
Alibaba Group's Seven Import Sites
There are many import sites in China, but Alibaba Group's e-commerce site occupies an overwhelming scale. Main site for China and There are two types of main sites for overseas (cross-border sites). Let's check the distribution amount ranking of each EC site when viewed on a global scale before.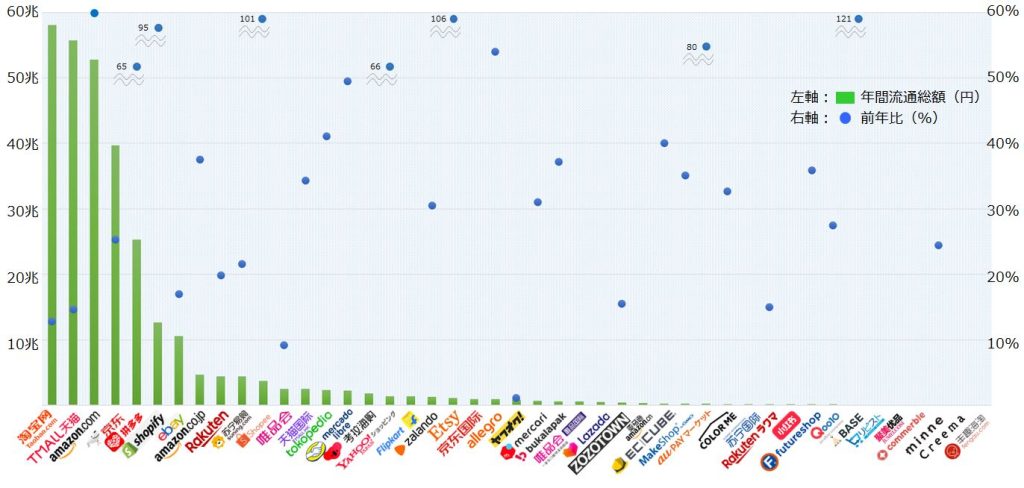 This table ranks 18 domestic EC sites and 27 overseas EC sites by total transaction value. can be taken And the scale is overwhelming, so you can see how much you can expect from the Chinese import business.
With this in mind, the Chinese import site is Let's start with the 7 Alibaba Group companies.
Taobao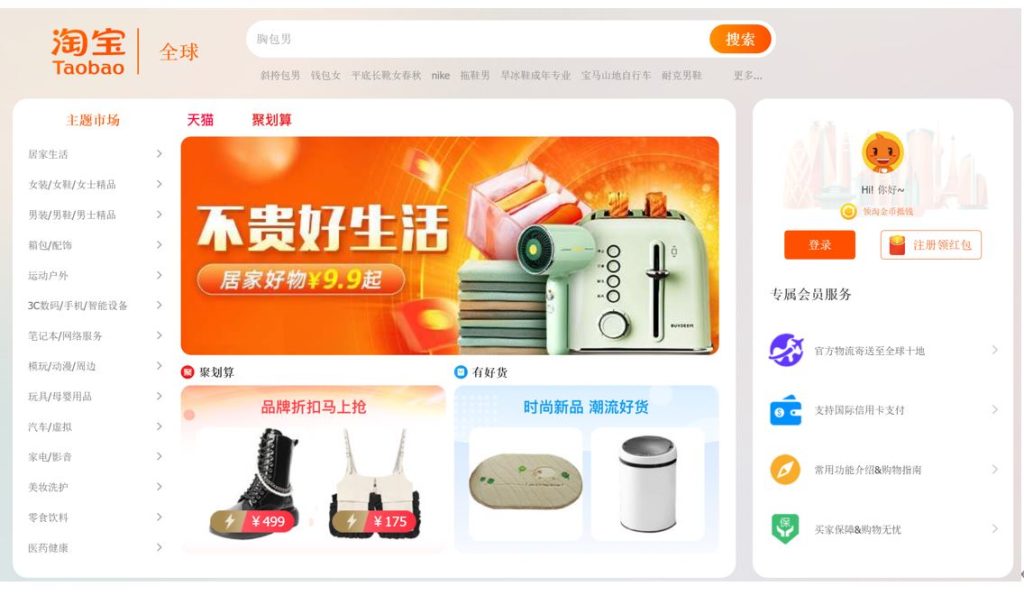 Taobao is the world's largest C2C marketplace, established by the Alibaba Group in 2003. The name Taobao means "there is no treasure that cannot be found, there is no treasure that cannot be sold", and the number of exhibited items is overwhelmingly over 1 billion.
The total transaction value in 2020 will exceed 58 trillion yen, and as you can see in the figure above, the sales scale of the EC site is magnificentWorld #1.
Taobao has more subscribersMore than 500 million people, transaction volume is online shopping across ChinaAbout 80% of the market. Since it is a C2C type marketplace, the image of the sales format is similar to Rakuten Ichiba in Japan, and it is a platform where general consumers can trade with each other.
TMALL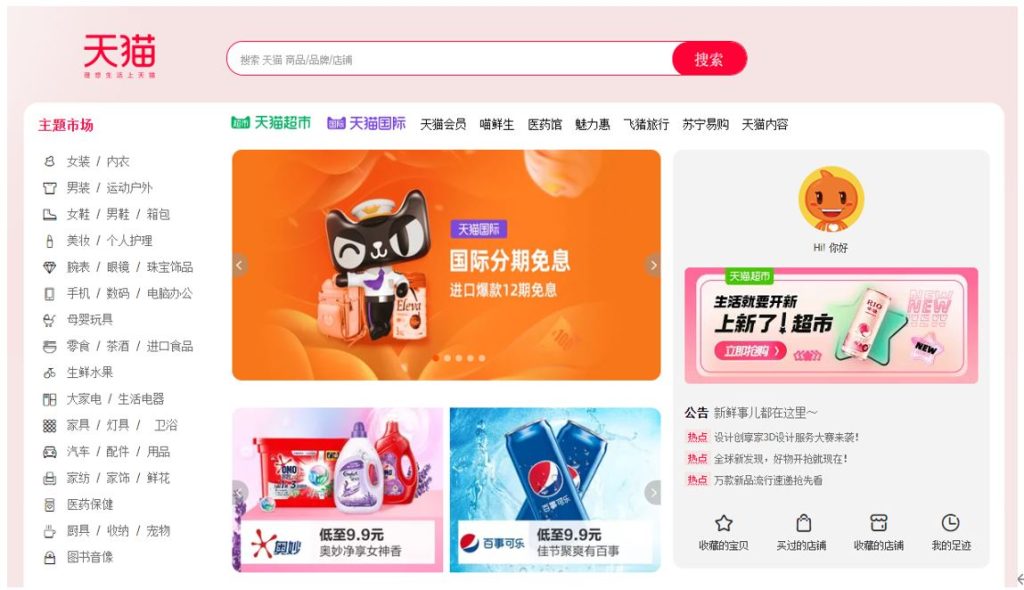 Tmall reads Tien Mao, second only to TaobaoA B2C type marketplace that boasts the world's second largest sales volume. Mainland China, Hong Kong, Macau and Taiwan are consumer e-commerce sites, launched in 2008 as a derivative business of Taobao.
It is very similar to Taobao, but the big difference is that while Taobao allows anyone to list items without screening, TMALL has very strict store opening standards, and stores are operated by certified famous brands and their directly managed stores. It has been constructed. Therefore, the quality of the product is good, but the price is also high.
Even so, TMALL's overwhelming market share and high ability to attract customers are extremely attractive to Japanese companies entering cross-border e-commerce, and major Japanese companies such as UNIQLO, Panasonic, and Sony are also opening stores. .
Alibaba.com
Source: Alibaba.com official site
It's a little confusing, but on the Alibaba Group EC siteAlibaba.com and 1688.com. Both are B2B wholesale e-commerce sites, but the difference is Alibaba.com is a cross-border e-commerce site operated by Chinese manufacturers worldwide, while 1688.com is an e-commerce site for China. Being a site.
Alibaba.com is a wholesale business, so prices are cheaper than Taobao and TMALL, and direct price negotiations, price negotiations, delivery deadline negotiations, etc. are possible with store manufacturers, and you can also request OEM products.
In addition, all companies can communicate in English, and some companies can communicate in Japanese. Although we are able to ship worldwide, our only drawback as a supplier is that the shipping costs are high.
1688.com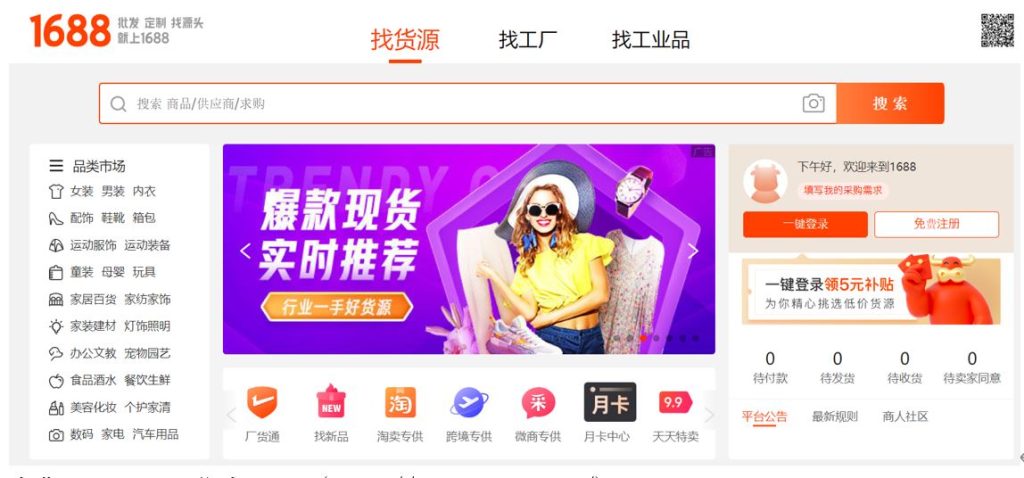 Source: 1688.com official site
As mentioned above, this is Alibaba's EC site for China. Since it is a wholesale business, the price is cheap, but a Chinese bank account is required for payment, and shipping is limited to within China, so if you want to order from Japan, you need to arrange it yourself or ask an import agent. there is.
However, even if you use an import agency for shipping operations, the total cost is often lower than Alibaba.com, so it is the site where you can expect the most profit as a supplier for import resale in China. (details later)
AliExpress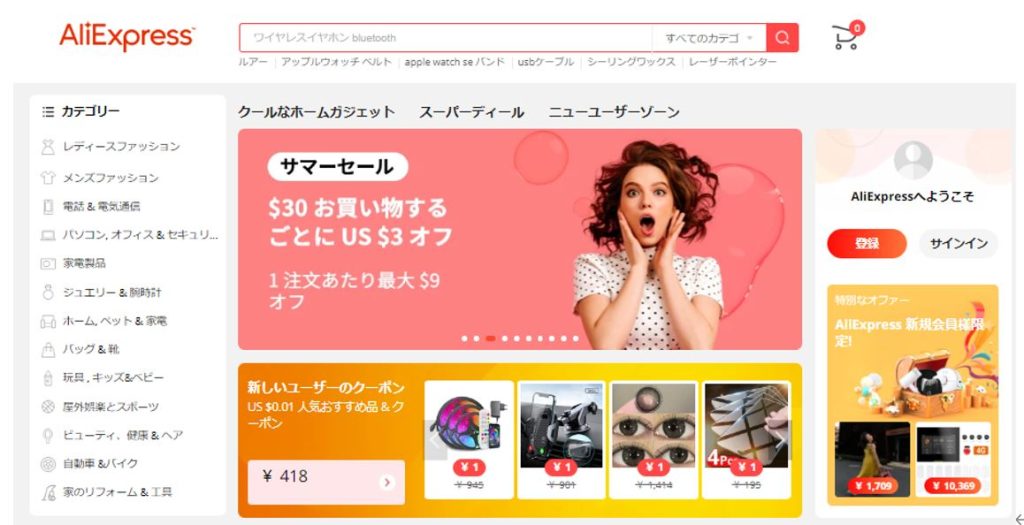 Source: AliExpress official website
Ali Express is a cross-border C2C marketplace. The site itself is Japan language support, and shipping is We will arrange direct shipping to Japan, so you don't need to use an agency or partner. It is suitable for individual purchases and small businesses, but because of its convenience, the price is higher than other e-commerce sites.
Shenyu (slow fish)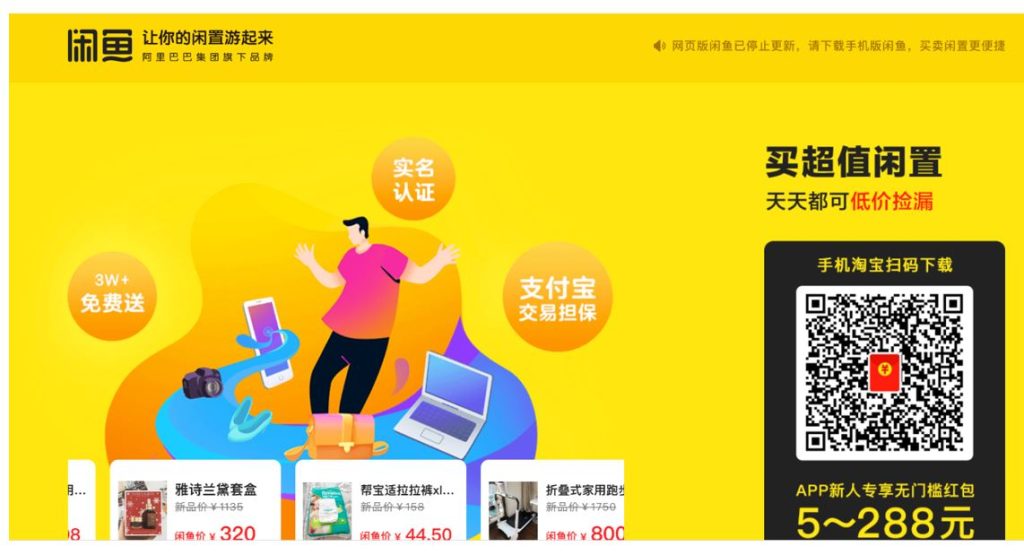 Source: Shen Yu official website
China's largest e-commerce site for dealing in used goods for the domestic market. It has an image similar to Mercari in Japan, and is especially popular with the younger generation.
Similar to Mercari, it is an app-based trading platform, so it is impossible to import directly from Japan, and you need to go through an import agent. However, since it is difficult to form a coherent business, there are only a few import agencies that can handle it.
E-Tao (One Tao Network)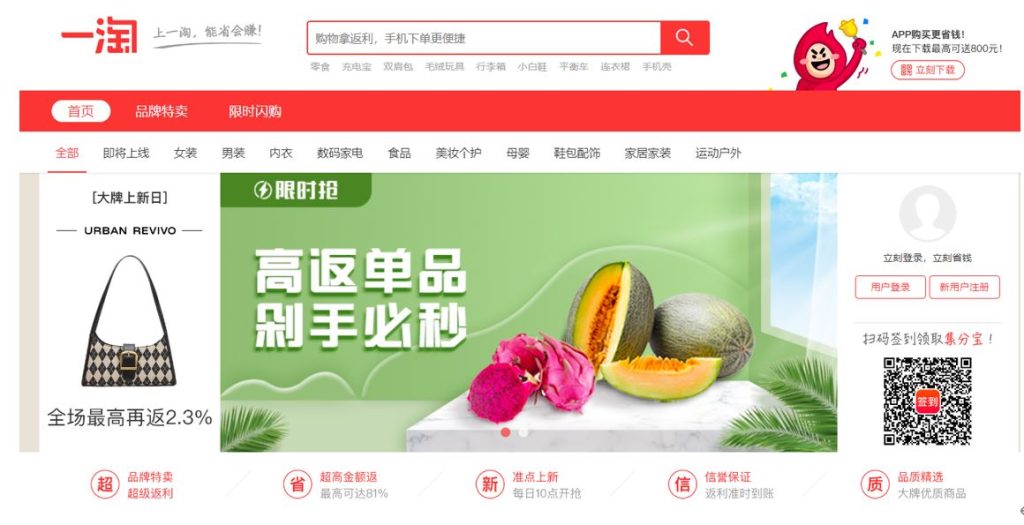 Etao is a China's leading product price comparison site, much like Japan's Kakaku.com. The amount of information is There are about 1 billion products, and many Chinese people use it as a convenient site to check prices and quality when shopping online.
In addition to product search, the secret of its popularity is that it provides a platform that allows coupons, joint purchases, and promotions.
Import sites other than the Alibaba Group
Speaking of China, Alibaba is famous, but as you can see from the graph above, there are many Chinese companies other than Alibaba that have entered the EC marketplace and are expanding their sales scale. From here, Let's look at the features, focusing on those with a large trading volume.
Unlike the Alibaba Group, it is not very familiar, so individual transactions may seem difficult, but it is quite possible to do business by using an import agency.
JD.com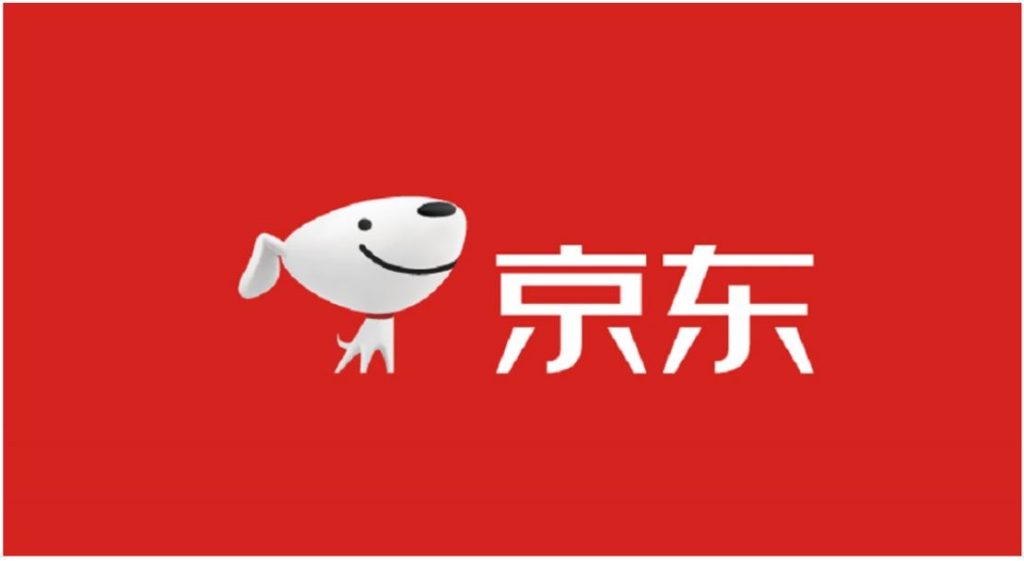 JD.com is an e-commerce site operated by Tencent Group, a competitor of Alibaba Group. Founded in 1998, it originally started under the name JD Multimedia, which sold PC peripherals.
Currently, following TMALL in ChinaSecond place, and even in the 2020 ranking of world transaction valueGrowing to #4.
One of the big reasons JD.com has grown so much is the strength of its logistics network. In 2010, we established our own logistics group, located our own huge warehouses in various parts of China, and launched a delivery service called "211 Limited Time Delivery" in 2010, which guarantees the delivery of products ordered by 11:00 a.m. on the same day. I got a lot of attention.
JD.com is a form of selling products under the name of JD.com on its own EC site, which can be said to be the Amazon model in Japan. Currently, we have a huge number of products ranging from food to furniture as well as electrical appliances.
Pindudu
Source: Pinduoduo official website
Established in 2015 as an EC site for a group purchasing system based in Shanghai. Since then, it has shown explosive growth, mainly in rural areas, and has made great strides to reach the fifth place in the world's total transaction value in 2020.
The secret of the breakthrough lies in the uniqueness of the joint purchase system. For example, there are unique mechanisms such as discount benefits if the joint purchaser's goal is cleared, and the purchaser advertises the joint purchase through SNS to friends and relatives. .
Suning Com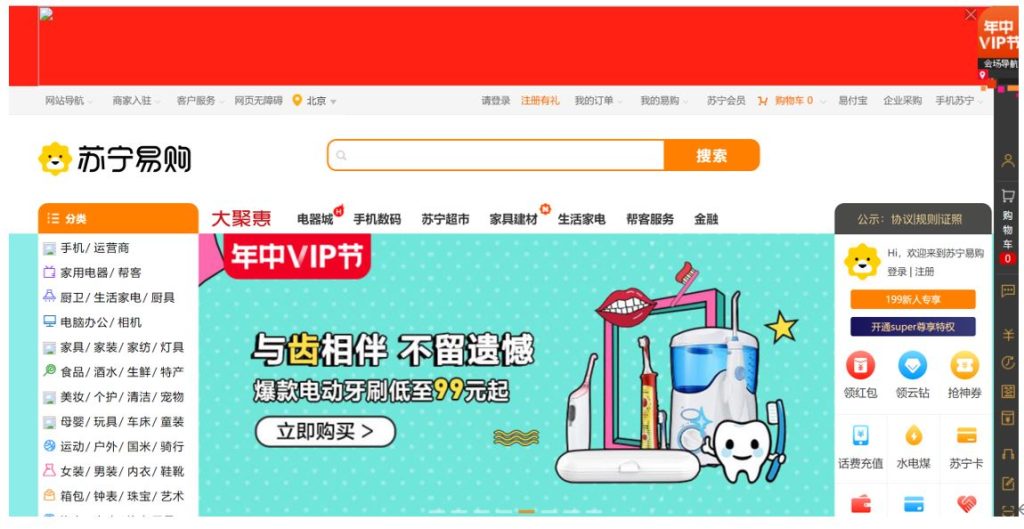 Source: Suning Com official website
Sunin Com is an E-commerce site of Suning Appliance, a Chinese consumer electronics mass retailer with over 20 years of trust and achievements. , We have a wide range of products such as food.
In China, where there were many low-quality and pirated home appliances, consumers have high recognition as a home appliance store that can be trusted. About 4 trillion yen becomes 10th in the world.
Vipshop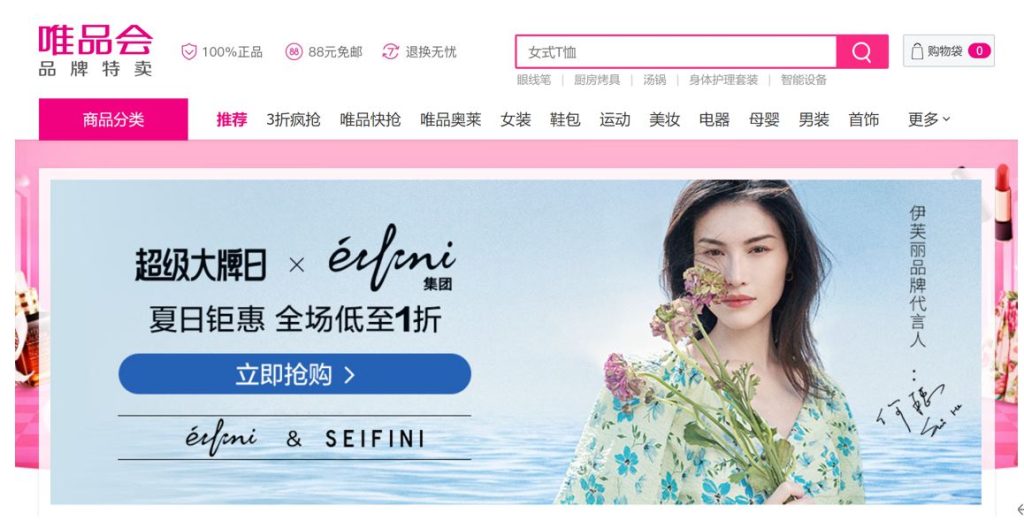 Vipshop was founded in 2008 in Guangzhou, Guangdong, China. As of 2019, Over 340 million users.
We have supplier bases in Taipei, Hong Kong, London, Milan, Paris, New York, Los Angeles, Sydney, Seoul, and Tokyo, and eliminate fake brands by procuring directly from overseas brand manufacturers.
In addition to successfully capturing the hearts and minds of users who are skeptical of Chinese products, it has grown rapidly by frequently holding large discount sales for short periods of time called "flash sales", and the total distribution volume in 2020 is about 2 trillion yen and Ranking to #12 in the world.
PandaHall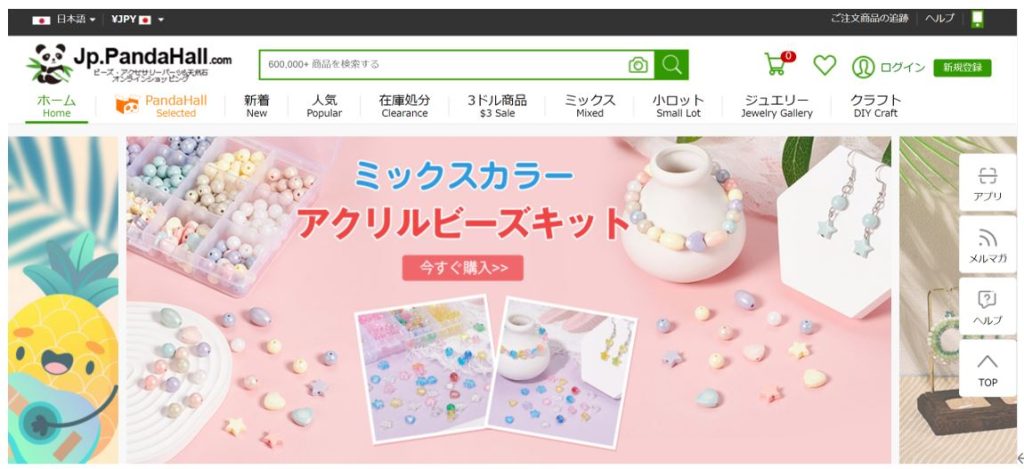 Source: Panda Hall Official Site
Panda Hall is an e-commerce site specializing in handmade materials where you can purchase cheap beads and accessories.
In addition to acrylic beads, we have a wide selection of products such as natural stones, silver, pearls, Swarovski glasses, and crystals. Not only bead parts, but also chains, ring fittings, earring parts, etc., we have almost all the materials necessary for making accessories.
Because of its low price and wide variety, it is popular with handmade artists around the world. The site can be browsed in Japanese, the prices are converted to Japanese yen, and inquiries can be Japanese support, so you can easily import it yourself.
Gearbest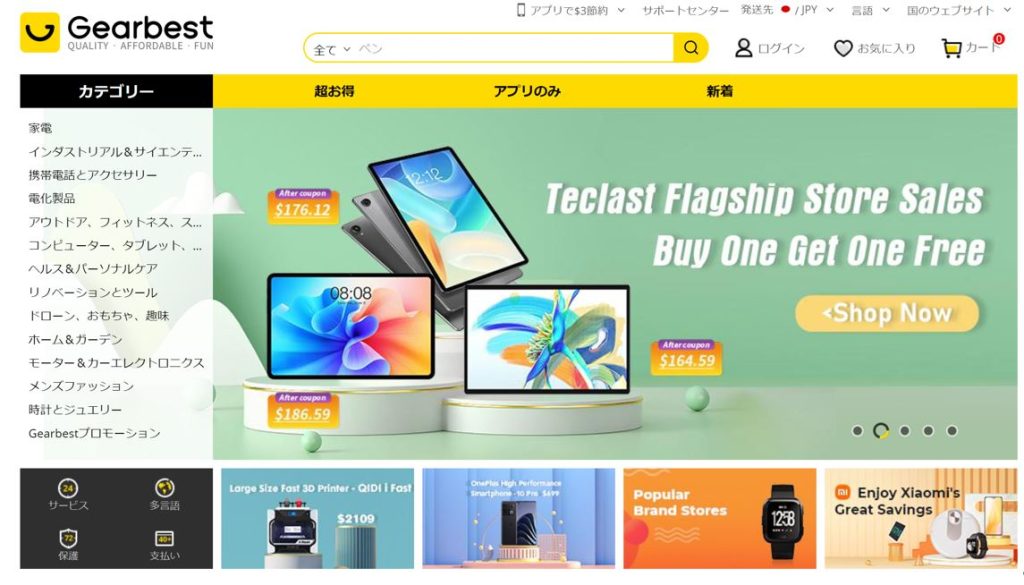 Source: Gearbest official website
GEARBEST, based in Hong Kong, is a much-talked-about EC site that mainly sells Chinese brand smartphones, tablets, PCs, and their peripherals at extremely low prices. In addition to that, the products handled range from home appliances to fashion, toys, and outdoor goods, and it is officially announced that there are more than 1 million items.
Most of the products are Chinese brands, such as Excelvan, Gocomma, and Alfawise, which are only available here. Among recent Chinese gadget brands, Xiaomi is popular and orders are increasing. Since there is a Japanese site, you can purchase it as if you were shopping at Amazon or Rakuten Ichiba.
Cmall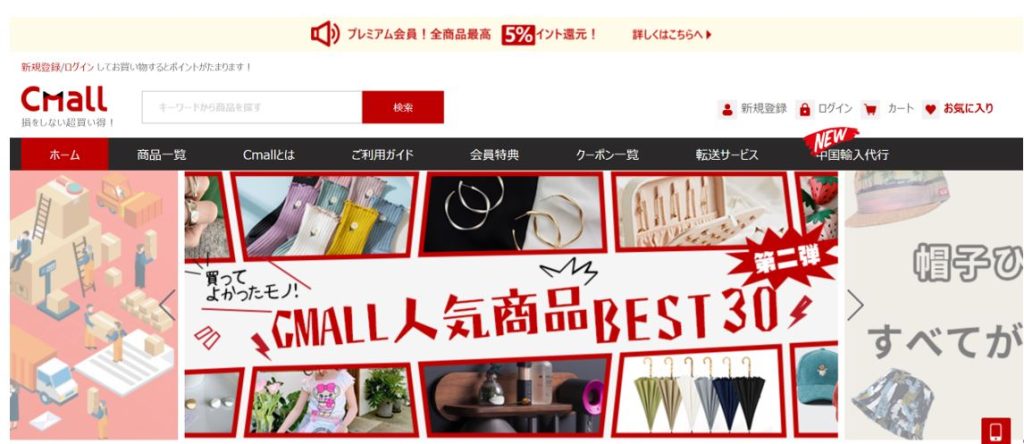 Cmall is a wholesale EC site specializing in apparel and accessories for women.
Browsing in Japanese is possible, and even though it is a wholesale businessYou can purchase from one item, so it can be said that this site is suitable for personal imports.
For orders over 20,000 yen Free shipping, becoming a VIP or premium member offers various discounts, as well as coupon benefits and point rewards.
There is also a pre-shipment inspection, so if you receive a defective productReturn within 7 days. Customer support is alsoJapanese Support is safe.
Amazon.cn (Amazon China)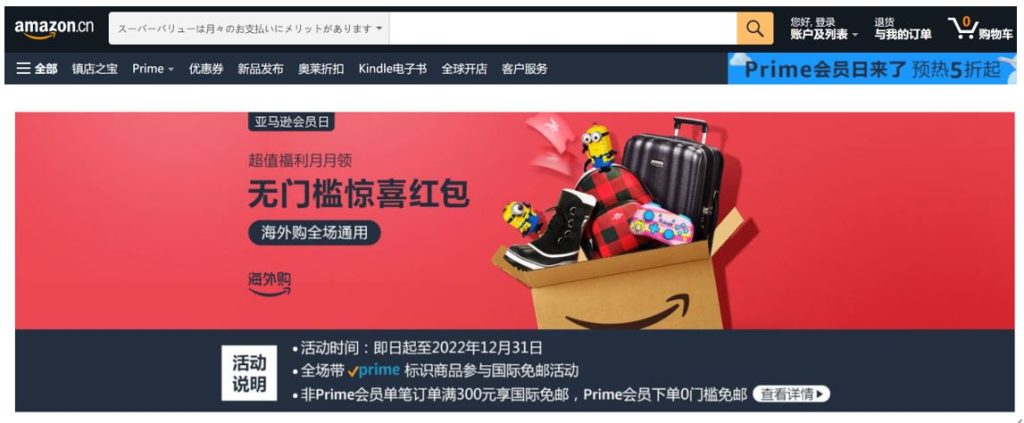 Source: Amazon.cn official site
Amazon.cn is the Chinese version of Amazon. Since it is the same as Amazon in Japan, it is easy to use for those who want to buy Chinese products for the time being.
The price is also cheap, but compared to other Chinese e-commerce sites, the number of products handled is small, so you may not be able to find the product you want. Instead, you can buy with confidence because there are no counterfeit products that are directly listed by Amazon.
Recommended Import Sites for Chinese Import Beginners
We have introduced 15 carefully selected import sites that are convenient for importing and reselling products from China, but the most recommended import site is Alibaba.
Taobao also has a lot of products, and it is perfect for its scale, but since it is a C2C EC site, the price is set a little higher than Alibaba, and anyone can list products at zero cost, so depending on the seller, There may also be quality issues.
On the other hand, since Alibaba is a B2B e-commerce site, the seller is a manufacturer or a directly managed factory, so there is no problem with the quality of the product. Since it is basically for retailers, the selling price is low, and it is also possible for OEM products to be ordered by the vendor.
Alibaba can be purchased by individuals, and if you handle a large amount, using an import agency will increase the possibility that your business will flow smoothly and your profits will increase greatly.
As I explained earlier, there are two types of Alibaba, 1688.com for domestic use and Alibaba.com for overseas use. In conclusion, purchasing from an import agent at 1688.com is the cheapest and has many advantages.
Alibaba.com offers international shipping to all over the world, but shipping rates tend to be quite high. 1688.com does not support international shipping, but Using an import agent to bring the item to Japan will cost less than Alibaba.com. In addition, some import agents include services such as pre-shipment inspection and product photography that Alibaba and Alibaba do not, so 1688.com is the best way to purchase.
There are really various purchasing sites in China, and as we have seen in this article, each has its own characteristics. You can also research the site and grow your business.
Advantages and disadvantages of reselling imports from China

China import resale is a business that even individuals can easily tackle, but There are merits and demerits.
Benefits of importing and reselling from China
High profit margin due to low purchase cost
All the import sites I've seen so far have low purchase costs, especially if you use a wholesale EC site, depending on the product, you can purchase it at about 1/10 the price in Japan. Therefore, it is a business model that can make enough profit even if you use an import agent.
The specifications of the import site are easy to use, and even individuals can easily work on it
 As the scale of cross-border e-commerce in China expands, the specifications of each e-commerce site are constantly improving. This makes personal imports very easy to work on.
Cooperating with directly managed factories makes it easy to develop OEM products
The basic model of the Chinese import business is to purchase and resell high-quality non-branded products, but OEM sales that sell non-branded products under their own brand by partnering with local directly managed factories are also relatively common. easy to work with.
Since there are many import agencies, outsourcing is easy
Depending on the import site, there are cases where a Chinese bank account and phone number are required when purchasing products, and it may be difficult for individuals to handle it. However, due to the amazing development of China's cross-border EC sites, the number of excellent import agents has increased, creating a very favorable environment for outsourcing.
Disadvantages of importing and reselling from China
Because there are also the following disadvantages in the Chinese import resale business, let's start the business after being fully aware.
More Rivals
China import resale is a relatively easy product sales business, but there are many individuals and companies that enter the market every year. As the number of rivals increases, as long as similar products are purchased and sold on similar EC sites, price competition may occur and profit margins may decline.
There are many defective products depending on the import site
Speaking of China, there is a strong image that there are many fakes and defective products, and although the quality has improved considerably recently, there are cases where the price is cheap but the quality is poor depending on the import site. In some cases, it takes time and money to inspect the product, so choose your supplier carefully. Also, it is wise not to deal with high-brand products on Chinese e-commerce sites, as it is better to assume that they are counterfeits.
It takes time to deliver
Purchasing from overseas has an unavoidable disadvantage of long delivery times. Even if you use airmail, there are inspections and procedures in the exporting and importing countries, and depending on the season and international situation, there may be significant delays. Therefore, especially in the case of hot-selling products, it is necessary to read the lead time of at least 2 weeks in advance so as not to run out of stock, and to manage the stock inventory while watching the sales.
There are laws to be aware of when importing
When importing and selling products not only from China but also from other countries, there are import prohibited products and import restricted products, so it is necessary to acquire knowledge about them and comply with them.
*For more information on Prohibited and regulated goods, please visit Please refer to the website regarding prohibited/restricted items for import/export.
Summary
In this article, the scale of the Chinese market is by far the largest in the world among cross-border EC businesses that are expanding globally, 15 carefully selected import sites for Chinese import resale, Chinese import resale I introduced the merits and demerits of.
The real pleasure of reselling imports from China is Expand your business by finding cheap and good no-brand products to ensure high profitability. Recently, competition has increased, but there are abundant products on the Chinese EC site that have more than absorbed it. In addition, OEM business is also possible in which a non-branded product that sells in partnership with a local factory is made into your own brand.
Our company "THE direct flight" provides various services to customers as a professional import agent. We also accept advice from experienced dedicated staff at any time, so please feel free to contact us from the inquiry page below.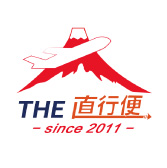 Until the end Thank you for reading!