Basic knowledge of Chinese imported OEM and important points you should definitely know!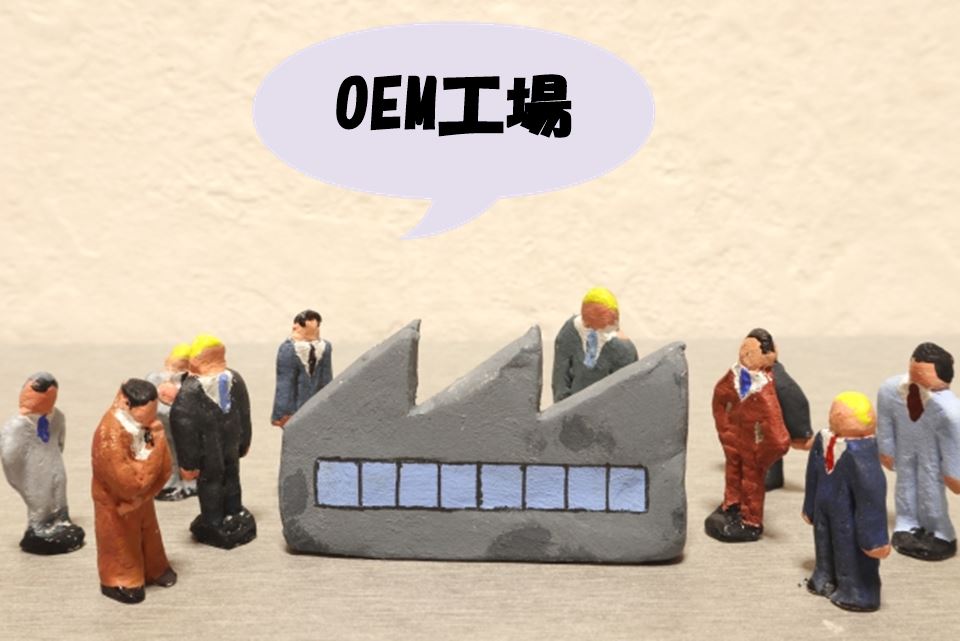 When you start your import business in China, you will hear the word "OEM" often. Recently, it seems that it has become established as a common sense term among working people, but OEM has become indispensable in the Chinese import business.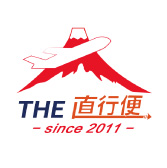 This time, I would like to explain OEM based on imports from China.
What is OEM?
OEM is an abbreviation for "Original Equipment Manufacturer", which literally translates to "Original Equipment Manufacturer".
Generally speaking, this mainly refers to "manufacturing products of other companies' brands". At that time, the brand that makes the manufacturing request is called the "consignor", and the manufacturer that undertakes the manufacturing is called the "consignee".
There are two forms of this OEM as follows.
① The brand outsources the manufacturing of its own brand products to the manufacturer.
In this case, the brand decides the specifications of the product, and the manufacturer manufactures it based on that. Ownership of the finished product belongs to the consignor, the brand.
② The manufacturer plans the product and proposes it to the brand.
This is often used by manufacturers as a way to increase orders by selling products with the help of big name brands. Brands can also save time on product planning and development, so if they can provide valuable products, they will benefit greatly.
Why is OEM importing from China so popular?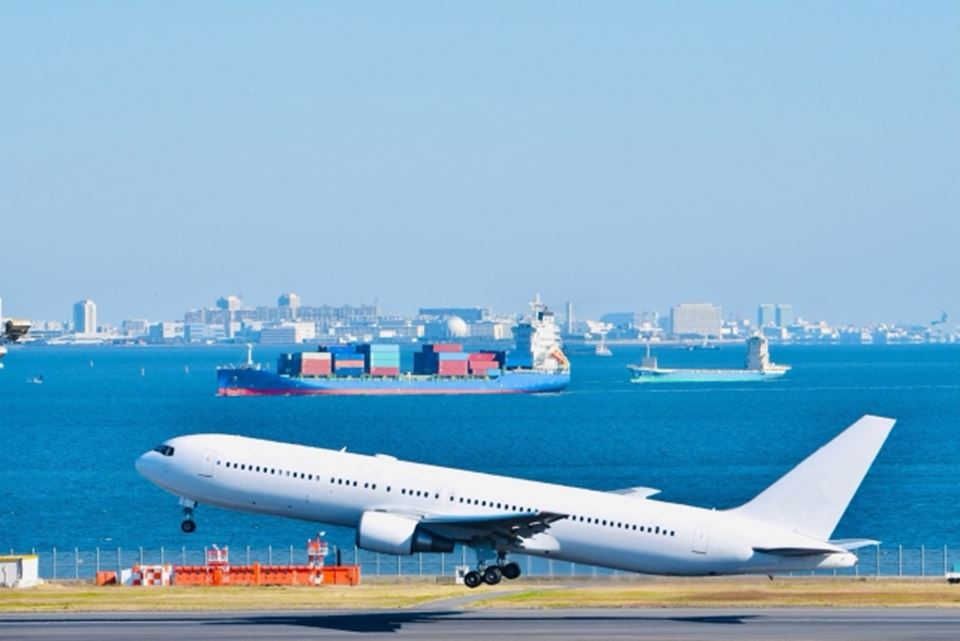 OEM in the Chinese import business takes the form of the importer consigning the manufacturing of the product to the OEM factory in China and selling the produced product in Japan. increase.
In a simple example, if a store that sells fashion products on a Chinese EC site has an OEM factory, it is a case of requesting the production of a T-shirt with its own brand logo.
The number of people involved in the import business in China, regardless of whether they are corporations or individuals, has been steadily increasing over the past 10 years, and it is becoming difficult to differentiate by simply purchasing and selling from EC sites for resale. increase.
Even if you find a popular product on Alibaba, etc., it is not uncommon for it to be imitated by peers who are good at research and fall into price competition. In that case, no matter how cheap the purchase price is, it will become a low-margin, high-volume business.
There are many people who use Amazon, but since the platform has one product page per product in principle, it will develop into a situation where you can't even look at it when it comes to price cuts due to shared listings. Product In order to differentiate from China, the number of OEMs imported from China is increasing .
Instead of simply procuring products from Chinese e-commerce sites, we create original products that are one step ahead of other shopsby changing designs that are likely to be popular and adding useful functions. Strategy is the OEM business in importing from China.
Benefits of importing OEM from China

There are many advantages of importing OEM products from China. Here, let's take a closer look at the most representative ones.
Exclusive sales increase profit margins
Successful OEM differentiation will enable exclusive sales in the market. When it comes to unique products, you don't get involved in price competition, so you can set slightly higher prices and maintain high profit margins.
Long-term sales are possible
Because there is no competition, it is possible to continue selling as long as the demand for the product continues, without being exhausted by price competition.
In addition, it is also possible to adopt a strategy to increase sales by increasing the lineup and adding new functions, such as increasing design and color variations along the way.
Brand Recognition
Once your brand is recognized by the OEM, and the number of regular customers increases, it will lead to repeat sales. In some cases, it spreads by word of mouth, and when it comes to famous brands, it is no longer a dream to develop into a big business.
The purchase price becomes cheaper
In the case of OEM production, there is a minimum required minimum lot number when placing an order. The number of lots varies depending on the product category and the conditions of the OEM factory, but in general there are cases of 500 or more.
Depending on the factory, there is a condition that the purchase unit price decreases according to the amount of purchase, so the more the number of sales increases, the more the cost will be reduced.
Be an asset
Once the OEM product gets on track, the only thing left to do is to maintain work such as additional orders, advertising, and customer management, so you can expand your business with less working hours. I can.
In addition, it is possible to plan new OEM products and increase the lineup with the extra time and money, and the business itself becomes an asset. This is the biggest advantage of importing OEM from China.
OEM Disadvantages

For Chinese import OEM business,There are many compelling advantages, but you should also be aware of the disadvantages before committing.
A certain amount of funding is required at the start
One of the merits is that the purchase price may be cheaper, but it is necessary to meet the minimum order lot requirements of the OEM factory. Therefore, even when making one OEM product, a certain amount of financial strength is required.
It takes a long time to start selling
OEM starts from product planning, design, sample confirmation, adjustment, production, etc. It takes time. Even if it's as simple as putting your company's logo on an existing product, you'll need to wait a month or two.
When making complicated changes, it is necessary to wait about 3 to 4 months from planning to delivery of the product.
It takes time to collect funds
Because we arrange a large amount of one product, it takes longer to sell than normal purchase, and the period required to collect funds will be extended accordingly. Therefore, if you do not have enough funds, you may not be able to pay even if the deadline comes, so you need to be careful.
High difficulty
If you miscalculate the demand at the product planning stage, you may end up with inventory even if you spend money and time to develop OEM products. Therefore, importing OEM from China is a business for experienced middle and advanced people, and it is not easy for beginners to start.
Of course, the benefits of getting on track are enormous, so getting tips from someone you trust and getting support from a reliable agency can shorten the time to success. prize.
Points for selecting an OEM factory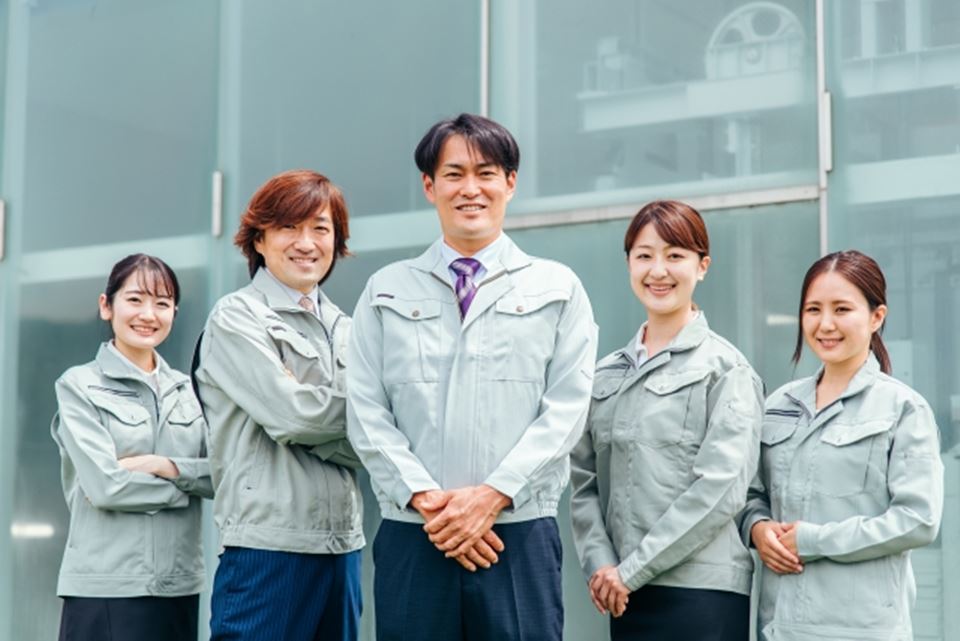 There are various ways of importing OEM from China, from simple OEM such as adding tags or logos to ready-made products, to making major improvements.
As a result, the degree of difficulty of OEM varies, but the basic process is almost the same. Here is Selecting an OEM factory
China import OEM flow
The rough basic flow of Chinese import OEM is as follows.
Product selection
OEM factory selection
Arrangement and confirmation of sample products
Mass production of OEM products
Start of purchase and sales
Few people have an original product that they want to make in China from the beginning, so the normal pattern is to start by researching the product they want to OEM.
The advantage of importing from China is the low purchase price, so first of all, we will understand the Chinese imported products that are popular in Japan and research similar products on the Chinese EC site. For specific research methods, please refer to the article below that explains in detail.
If you are researching on a Chinese EC site assuming OEM, we recommend Alibaba Group's 1688.com. Because it is a B2B wholesale e-commerce site, not only are the products cheap and of good quality, but there are also many stores that have directly managed factories that can handle the manufacture of OEM products.
For OEM products, there is a minimum lot size condition when purchasing, so the purchase amount will be large. Therefore, in product selection research, it is necessary to check the price and sales status of similar products, and to conduct more careful research than normal research to determine product demand and how much sales can be expected for the product being planned.
OEM factory selection
Selection of OEM factory is very important for Chinese imported OEM. No matter how good the product is planned, if the capacity of the factory is low, the quality of the finished product will be low.
As mentioned in the previous section, you can use 1688.com to find stores that have directly managed factories that can handle OEM. Keeping this in mind, the rest of the process will be smoother if you select several OEM-compatible stores at the product research stage.
I will give a specific example and explain the points for selecting an OEM factory, so please refer to it.
Example: If you are looking for an OEM factory that manufactures original shoes
Translate shoes into Chinese with Google Translate.

Enter the Chinese word for shoes, 鞋, into the 1688.com search window and press the search button.
Move the cursor to the tab of "经营型" (management pattern) indicated by the red arrow in the figure below in the frame that appears above the product image in the search results that appear. Then, a pull-down menu will appear, so click "Production processing" (production / processing) from it.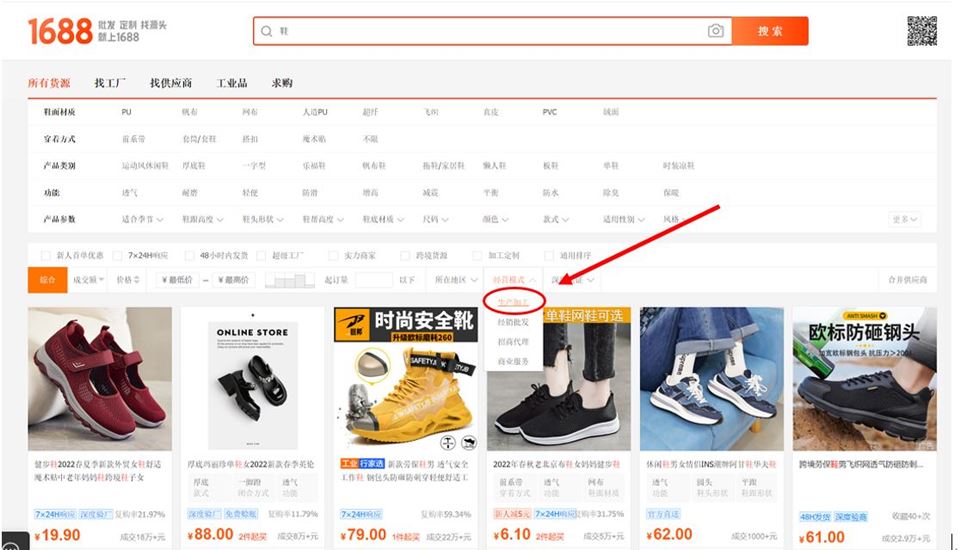 Note that not all of the factories that appear when you select "Kou" (production/processing) are compatible with OEM, and there are cases where only production or processing is available.
So, when you enter the product page of the shoe you are interested in and move the cursor over the store name (red arrow) as shown below, the store information circled in red will be displayed in a pop-up.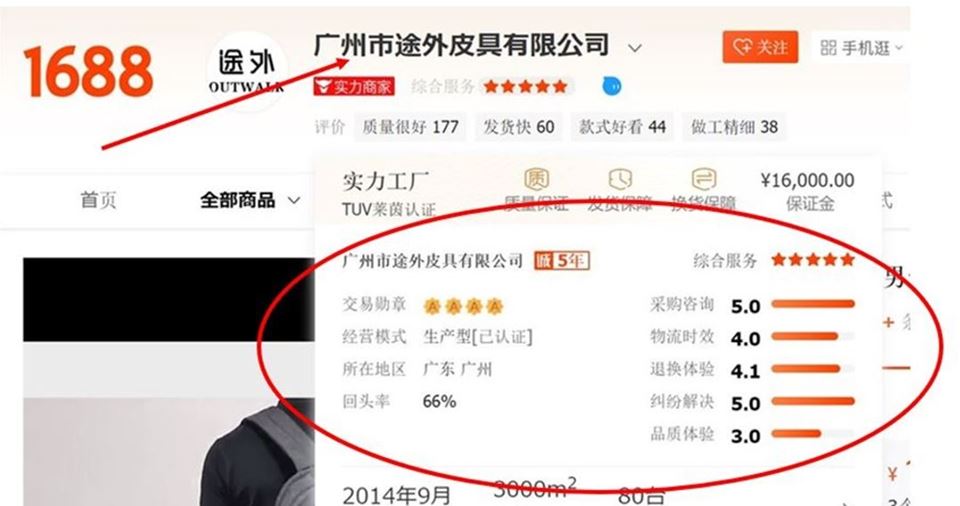 This information evaluates and explains the operational status of the store, and the details of the specific items are as follows.

By looking at the ③ "store management format" circled in red in the above diagram, you can see whether or not it is possible to produce original products through OEM support.
Specifically, if it is displayed as "Production House" as shown below, it is a store with a directly managed factory that can handle OEM. is.
Production house: Factory Directly managed (original products can be handled)
Link: wholesalers (original products cannot be handled)
Of course, it is not only possible to do OEM, but it is also necessary to check whether the store is a good store, so please refer to the article below for details.
If it is a good store, you can assume that it can be trusted to manufacture OEM products, but since we are selecting an OEM factory here, let's check the basic information about the factory directly operated by the store.
As shown in the figure below, the bar is displayed above the product image on the product page, so click the red circle part indicated by the red arrow in it.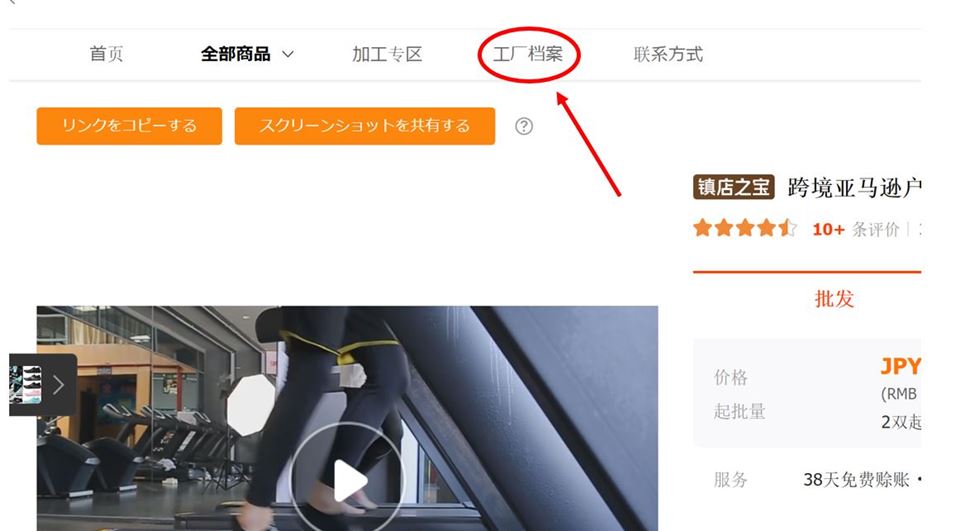 Then you can move to the factory overview page, where you can see the exterior and interior of the factory with images, and check the OEM factory information such as numerical evaluation.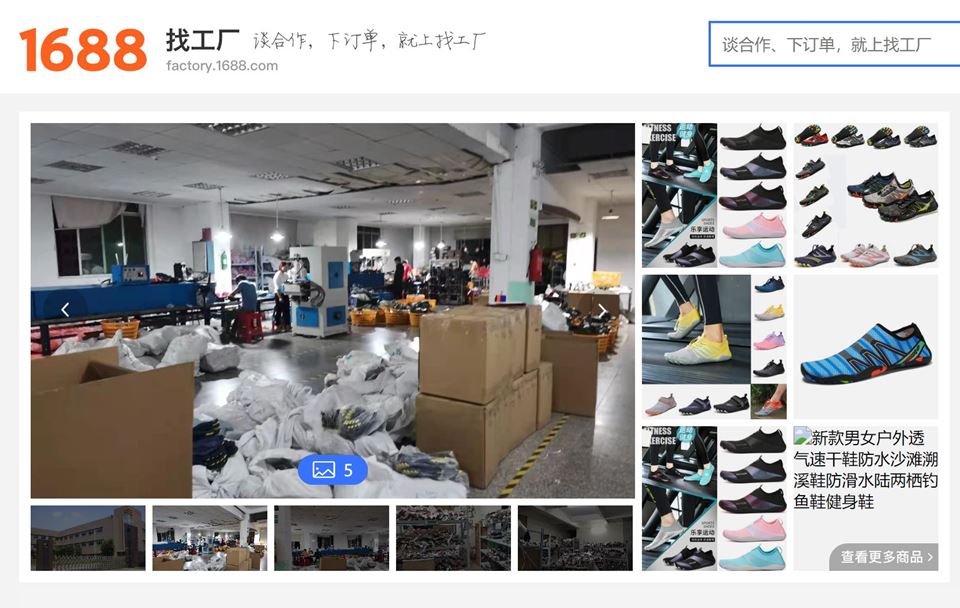 As shown in the figure below, by clicking on the five tabs on the top bar of the information below this factory image, you can view "Overview", "Production Capacity", "Collaboration Method", "Workshop Equipment", and "Corporate Integrity". You can see more details about "sa".
(*Published using the automatic translation function of Google Chrome)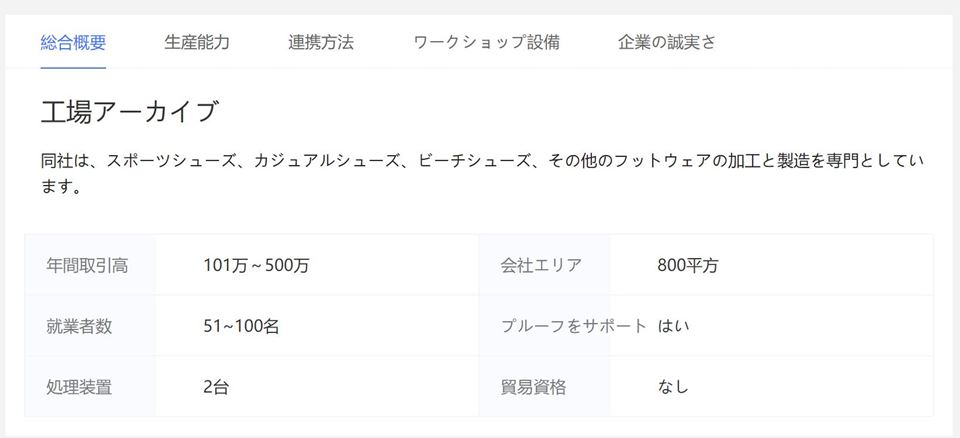 *You can check annual transaction volume, number of employees, factory site area, etc.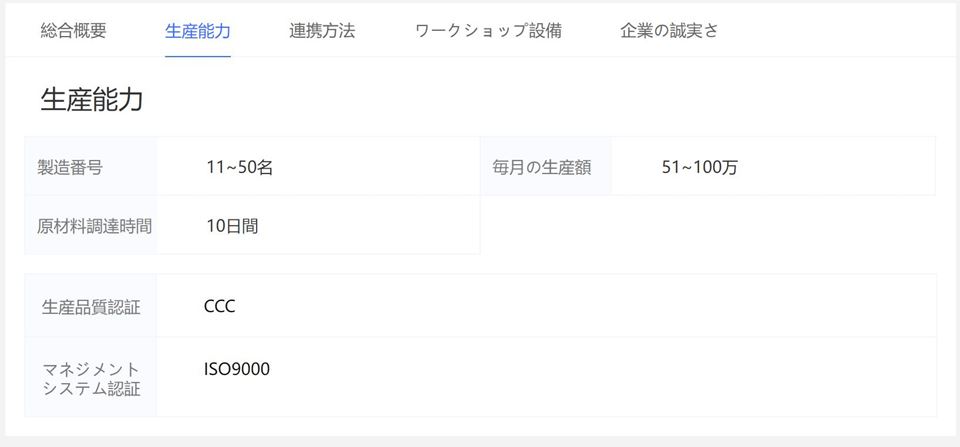 * You can check raw material procurement time, ISO standard certification, monthly production amount, etc.

* You can check the minimum number of lots at the time of ordering, whether or not you can order from overseas, and the management style.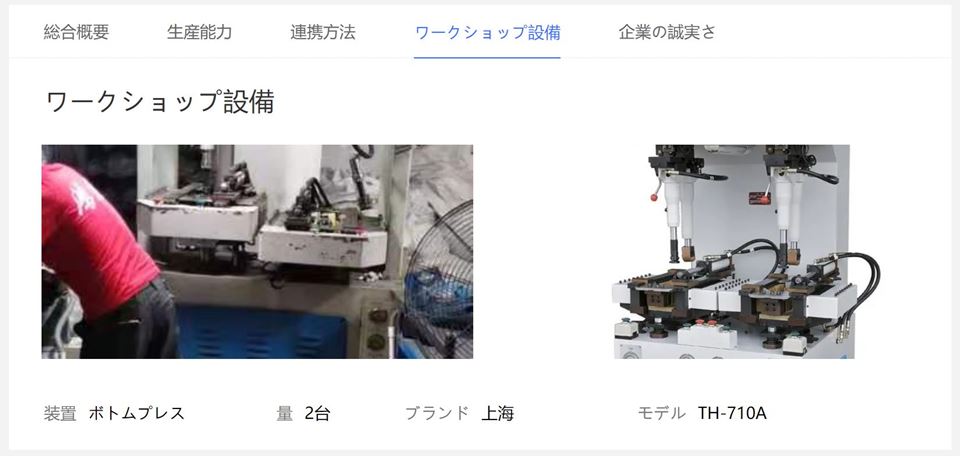 * You can check the factory equipment in the image.

* You can check the factory safety level and transaction information by clicking the icon.
In addition, the factory grade, response rate regarding inquiries, return rate, etc. are displayed on the right side of the factory image, so it is an important reference for making decisions.

Based on this information, if we can find about 3 candidates for OEM business partners, we will request the production of sample products for each of them, Product quality and response capability, minimum lot number, product unit price, mass production Based on information such as the period and additional costs, we will make a comprehensive judgment and select the factory to which we will request the final order.
If you can't find a factory that OEMs your desired product even if you use a Chinese e-commerce site, ask them to find a Chinese business partner with whom you have a long-term relationship, or rely on an agency. There is also Even if you can speak Chinese, it would be wise to avoid going to the local area and looking for it yourself.
Points to note when importing OEM products from China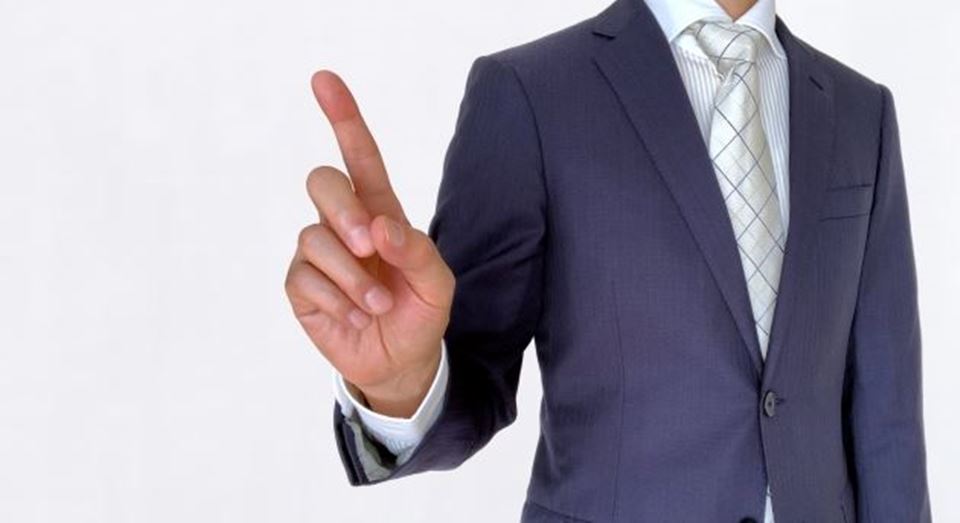 While the number of people working on OEM imports from China is increasing, various troubles are occurring. Different countries have different languages ​​and business customs, so even a small misunderstanding can lead to big losses.
Here is an example of I will explain the points to be aware of before and after the incident.
The result is different between the sample and the actual product
Even though we checked the quality of the sample in advance, when the actual product arrives, the quality may be degraded or the design may be different.
This is because the materials and manufacturing methods used for samples and mass-produced products are different, and we put a lot of effort into sending good samples. To avoid this situation, it is necessary to take the following actions in advance.
Confirm in advance that the raw materials used are the same for samples and mass-produced products
Confirm in advance that the processing method is the same for samples and mass-produced products
Order multiple samples to check for consistency in quality
Check in advance whether there is a track record of OEM production with Japanese
The price is different between the sample and the actual product
You may be surprised that the price of this product is higher than that of the sample, but this often happens due to lack of confirmation in advance. The other party thinks that it is natural that the price will be higher because inspection fees and other fees will be incurred in the actual production. If there is no such explanation, the consignor will misunderstand that you can get it at the same price, so be sure to check the following.
When ordering a sample, check if there is a price difference between the sample and the actual production
Defective products occur in production
There may be items that cannot be sold as products, such as damaged items, poor processing, or contamination with foreign matter, among the products that arrive after this production, and not all of them can be sold.
Because it will be revealed after importing, depending on the amount of defective products generated, the sales plan may be greatly disrupted, so it is necessary to take the following measures.
Depending on the defect rate, we thoroughly inspect all products before shipping at the site
Request a refund for the defective product or prompt reproduction
Have the defects corrected in the next production lot
If the other party's response is poor, stop the transaction and search for another OEM partner
Products with different variations arrive
If the product has color variations or multiple sizes, what you ordered and what you received may differ.
Since this often happens because the on-site workers cannot understand Japanese, the following countermeasures and communication are necessary.
Thorough pre-shipment inspection
Add images, diagrams, color indications, etc. to the work instructions, and devise ways to convey them in ways other than language
Request a return for more items than the number ordered
OEM agency service for THE direct flights
Our company, "THE Direct Flight" provides a very convenient OEM agency service for the development of original products for our members.
Partner OEM factory More than 30,000 companies, we handle everything from simple OEM to full orders, and consistent management from design to parts purchase, quality inspection, and distribution is possible.
Since our staff who can speak Japanese will support all communication with the Chinese factory, customers can work on the creation of OEM products in Japanese until the end.
For apparel products, we have signed a contract with Sanyo Shokai, an apparel company that once had a business alliance with Burberry, and have 10 registered designers to design products that match the latest trends in Japan. .
In addition to the design, you can also make a sample by providing only an image photo.
In addition, the lot volume, which was the biggest bottleneck for OEMs, is The minimum lot for apparel OEMs on direct flights isFrom 1 piece is possible.
If you are interested in importing OEM from China, please consider using our OEM agency service.

Summary
China imported OEM can sell original products at a relatively low cost, so more and more people are doing simple OEM as a side business or working on it as a full-scale business.
If you succeed, you will become an asset, and you can make a lot of money by selling it.
In this article, I explained the merits and demerits, how to select an OEM factory, and notes for those who are considering OEM imports from China.
Being involved in the manufacture of OEM products overseas is geographically distant, has language problems, and is not limited to importing from China. Even so, the reason why Chinese imported OEMs are so popular is as I have already told you, and that trend will continue in the future.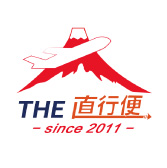 Until the end Thank you for reading!