Handling rules and countermeasures for quality and care label tags in apparel products imported from China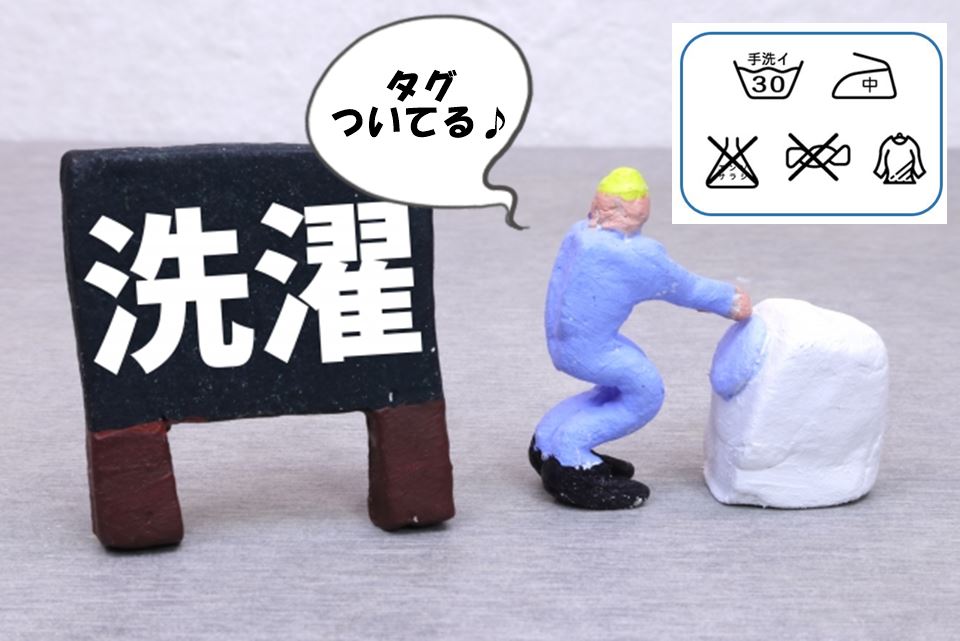 There are a great many people who are dealing with apparel products imported from China. This is a category that is easy to handle and profitable even for beginners, and there are many advantages such as no need to worry about counterfeits if it is a no-brand product, and if it is a standard product, it can be sold repeatedly.
But do you know what to do with quality and care tags?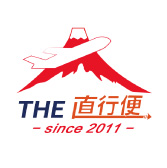 This time, I will explain the information about it while comparing it with Japanese law, and tell you about tag measures for imported apparel products from China.
Is quality and care labeling necessary for apparel products imported from China?
In conclusion, it is obligatory under the Consumer Affairs Agency's Household Goods Quality Labeling Law to attach quality labeling and care labeling tags to apparel products.
Consumer Affairs Agency, Household Goods Quality Labeling Act
When importing, it is not subject to customs checks, but a tag written in Japanese is required at the stage of sale. Therefore, it is illegal to sell apparel products imported from overseas as they are, not just those imported from China.
Are there penalties?
Some people sell products without quality/washing label tags without knowing it, but the Consumer Affairs Agency's Labeling Division is working to rectify the situation, so if it is considered inappropriate sales, guidance will be given. enter.
In the worst case, according to Article 25 of the Household Goods Quality Labeling Act, you may be fined up to 200,000 yen (Articles 5 to 7 are detailed regulations on labeling). . There is no prison sentence.


Apparel products that do not have quality labeling or washing label tags will also affect sales. Rather, in terms of money, this may be more serious than punishment.
There is a sense that it is natural for apparel products to have quality labeling and washing labeling tags, so of course it is difficult to purchase products that do not have such tags in stores, and if they are delivered online, the impression of the store will be bad and notorious. Sales do not increase due to lack of popularity or repeat purchases.
On major marketplaces such as Amazon, sales are also more regulated. As a result, there have been cases in which customers who purchased imported apparel products complained that they did not have a care label attached, leading to the suspension of their listings.
Tagging is time consuming and costly, but it is necessary to protect your business.
How is it regulated by the Household Goods Quality Labeling Act?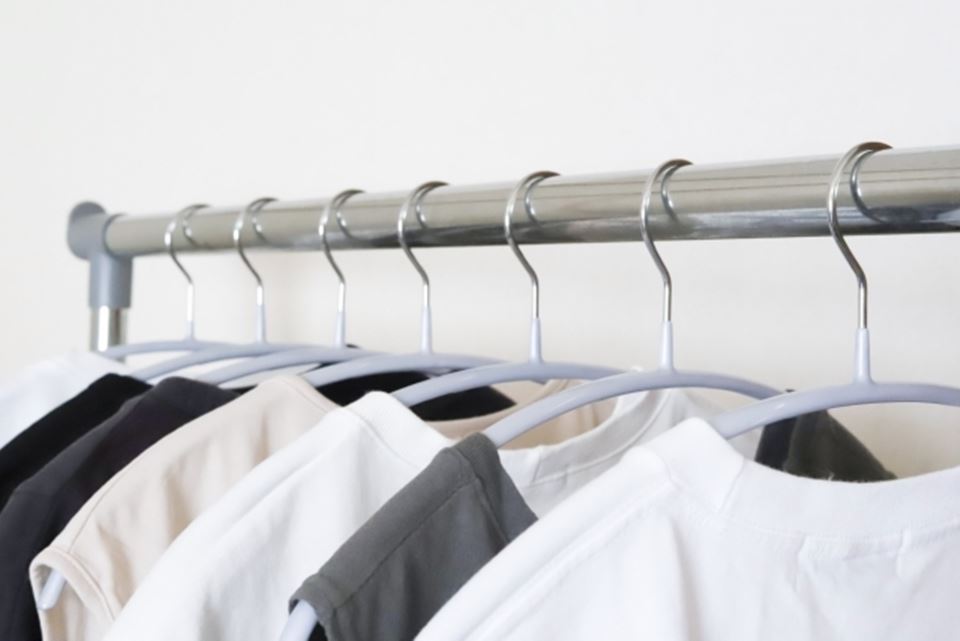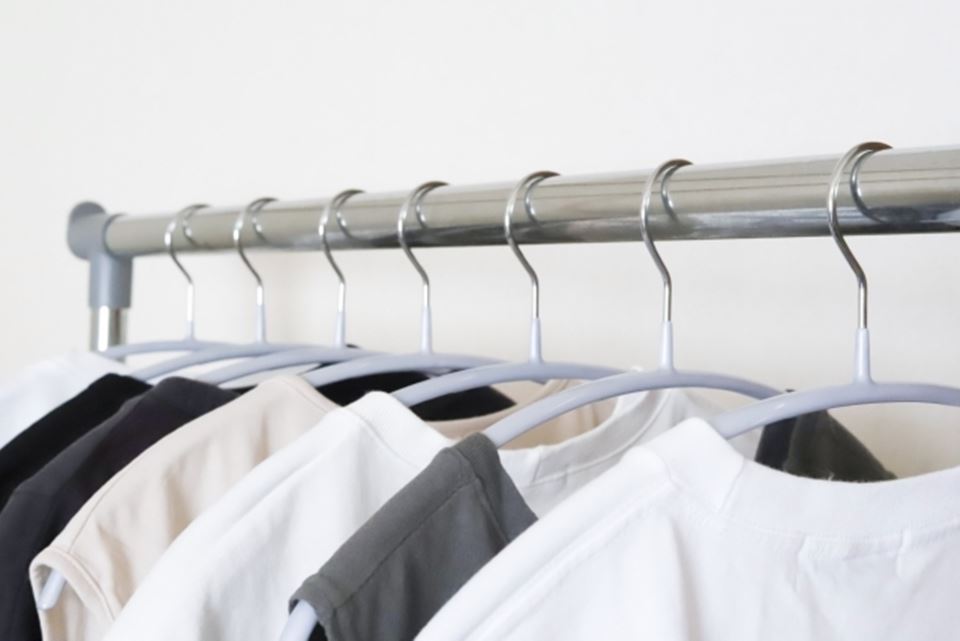 There are four items subject to the Household Goods Quality Labeling Law: "textile products", "synthetic resin processed products", "electrical machinery" and "miscellaneous industrial goods", and apparel products fall under "textile products". increase. Let's take a look at the details of the specific verification method according to the law.
Confirming the items required for the quality display tag
The items that need to be listed on the quality label tag at the time of sale differ slightly depending on the item, so check the textile product list below.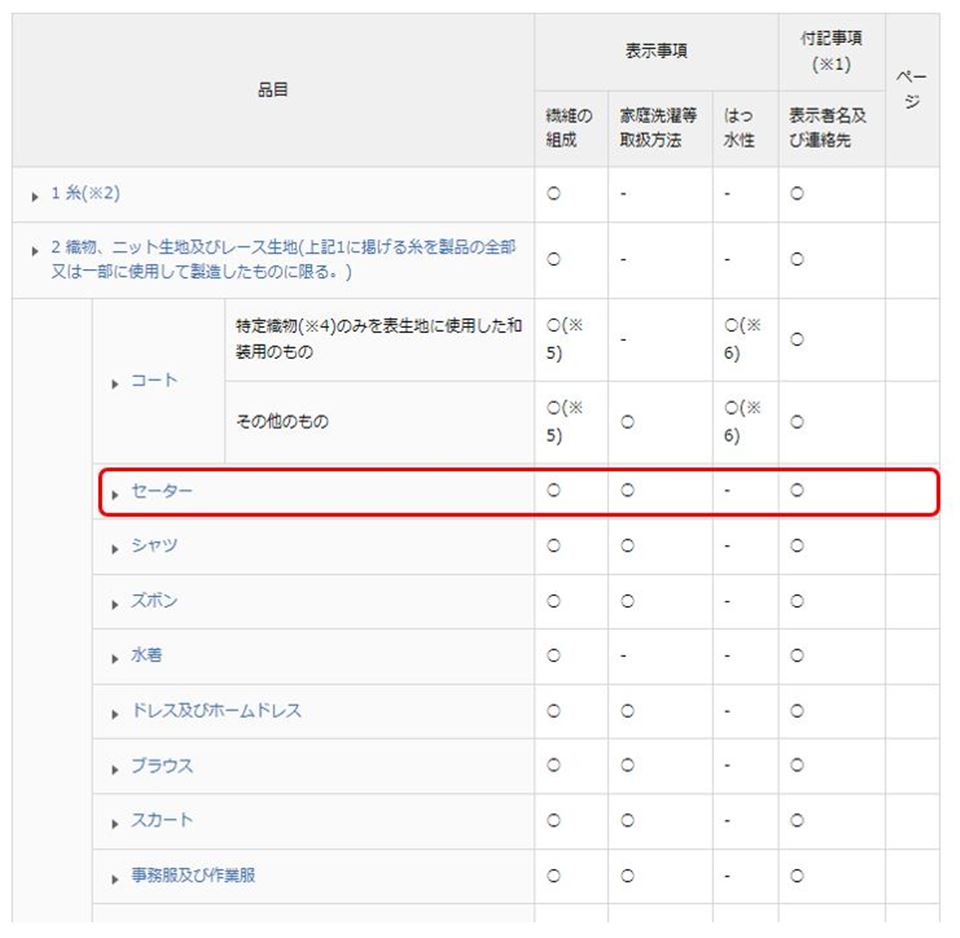 Consumer Affairs Agency, textile product list
There are four items to check.
Indication items: Fiber composition, home washing, etc., water repellency
Additional information: Labeler name and contact information
For example, in the case of a sweater, there are three items "Fiber Composition", "Home Washing Instructions", and "Labeler's Name and Contact Information" as circled in red above. I know it needs to be displayed.
I will explain each check item.
Fiber composition
The fiber composition is the type of fiber material and the percentage of the product, such as "50% cotton" often seen on tags. There are two types of display methods, "whole display" and "separate display", and the differences are as follows.
Full view
This is a method of displaying the mass ratio of each fiber material used in the product to the total product as a percentage.

Isolated view
This is a method that separates the parts of the product and displays the fiber material term for each part and the percentage of the total composition fiber of the relevant part. There is no particular rule on how to divide the parts, but it is necessary to write the divided parts in an easy-to-understand manner.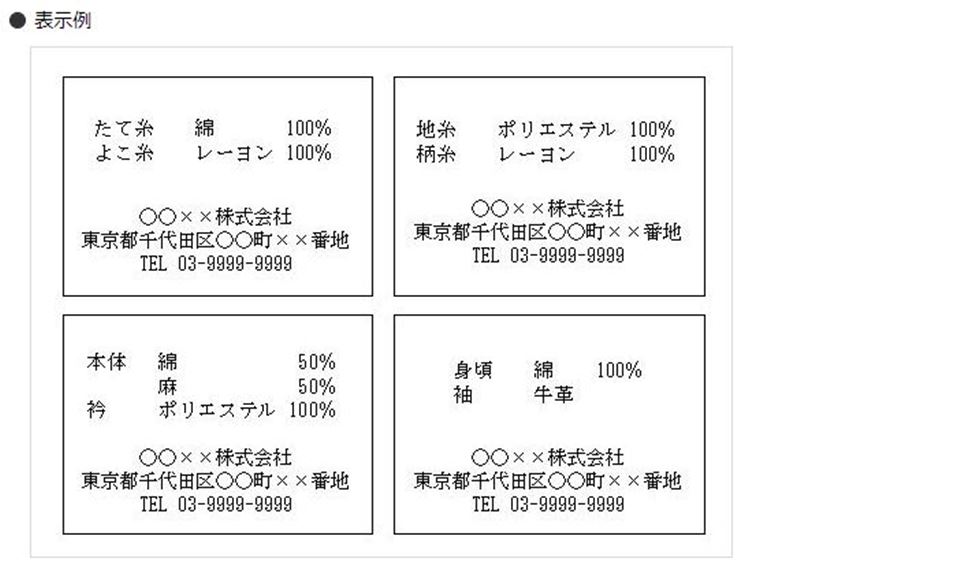 In some cases, special labeling is also possible, so please refer here for details on labeling textile products.
How to handle household laundry
It is necessary to indicate the indication of washing methods at home by combining five basic symbols and additional symbols representing their strength and temperature.
The five basic symbols are often seen on laundry label tags as shown below.

The typical additional symbols are as follows.
Additional symbols that indicate the degree of weakness of processing
It is added below the
symbol, and as shown in the figure below, it indicates that the processing indicated by two lines is weaker than the one line.

Supplementary symbol indicating degree of treatment temperature
The processing temperature of the drying processing symbol and the processing temperature of the ironing processing symbol are indicated by dots as shown in the figure below, and the higher the number of dots, the higher the processing temperature.

Additional symbol indicating prohibition of processing/operation
If this additional symbol overlaps with the five basic symbols, it indicates that the corresponding processing/operation cannot be performed (prohibited).

Although there are additional symbols such as numbers and alphabets, they are combined with the basic symbols to become the symbols that represent the washing method at home. (See below)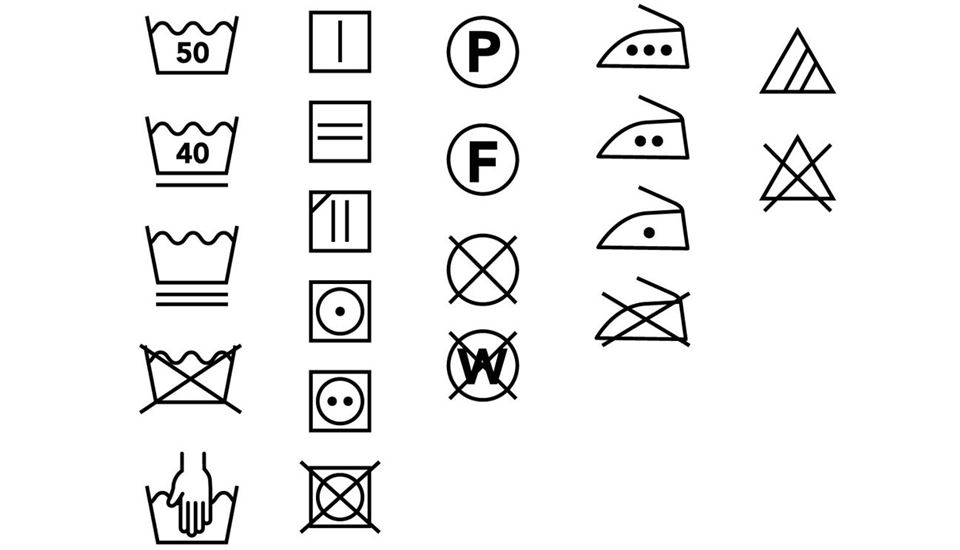 These symbols are displayed in a specified order, so please refer to the Consumer Affairs Agency laundry labeling for details.
Consumer Affairs Agency laundry label (December 2016 1) date)
Water Repellency
In the case of products that require water repellency, such as raincoats and coats that can be used both in the sun and rain, attach a tag that says "water repellent" or "water repellent". .
It is not necessary to display "water repellency" except for coats that require water repellency such as raincoats.
A display example is shown below.

Displayer's name and contact information
The labeler's "name or name" and "address or phone number" must be written as additional indications on the laundry label tag.
The labeler is responsible for the content of the label, and the business operator (either the importer, the distributor, or the labeler) with a business base in Japan will carry out the labeling.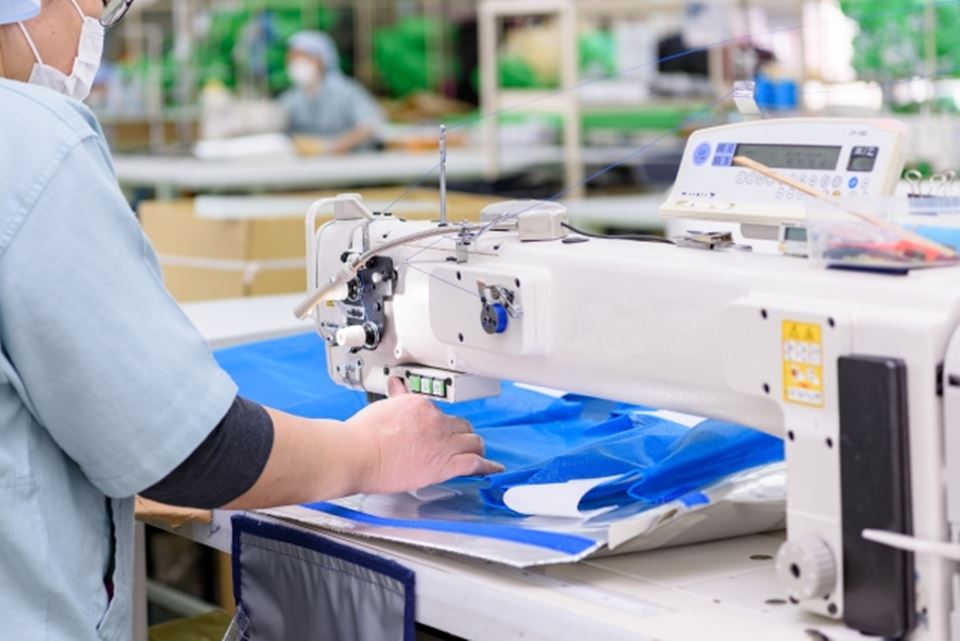 As mentioned above, when importing apparel products, it is not necessary to attach quality and care label tags at the time of import, so tags can be attached either before or after import. In other words, it is a choice whether to do it on the Chinese side or on the Japanese side.
As you can imagine, the labor cost is high when tags are attached in Japan, and this puts pressure on earnings. .
In Guangzhou, which is the center of the apparel industry, there are companies that can create quality and care label tags in Japanese, but it is difficult to arrange tagging on your own. There may be differences in the finish depending on the manufacturer.
If you are an import agency in China, there are many companies that also support quality and washing tagging, and you can expect an accurate and careful finish, so why not consider using them?
When selling apparel products at shopping malls such as department stores instead of EC sites, accurate product test results conducted by specialized institutions may be required.
If product testing is required, the website of the National Consumer Affairs Center of Japan introduces the organization conducting product testing, so please refer to it as necessary.
National Consumer Affairs Center of Japan, product testing agency
Summary
I hope you have understood that it is important to attach quality and care label tags in accordance with the Household Goods Quality Labeling Law when handling apparel products imported from China.
There are some beginners who import and sell without knowing this, but general consumers have a strong awareness that it is natural that quality and washing label tags are attached. It will lower your credibility and affect your sales.
Even in our company "The direct flight", for customers who wish, we can handle everything from creating quality and washing indication tags to sewing them, among the inspection options performed in China, so if you are interested, please contact us. Please contact us.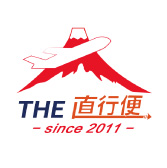 Until the end Thank you for reading!