[Preliminary introduction NO.1] THE direct flight system official version new function
"THE direct flight system official version" will be released on Friday, July 15, 2022.
Prior to this, in this article, we will introduce the functions that are planned to be added and enhanced as soon as possible.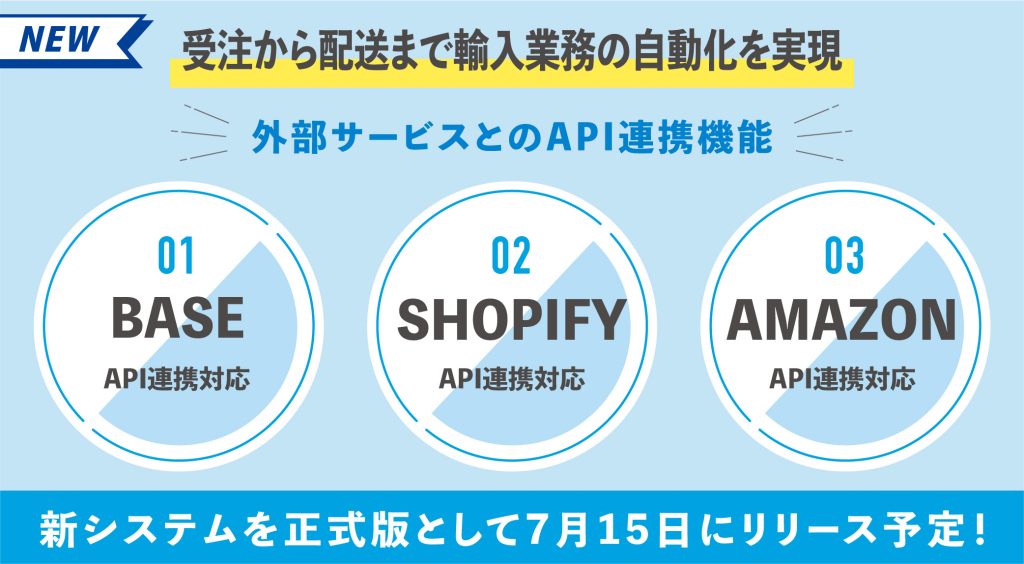 API integration with external services
By linking APIs with external services such as BASE, SHOPIFY, and AMAZON, you can centrally manage order information and inventory data for vendors and suppliers. By automating the work and letting the system execute it, human work mistakes can be reduced.
■ By linking APIs with BASE and Shopify stores, ordering work can be automated and streamlined using the system, helping to improve profits by reducing time and costs.
■ By linking with Amazon API, product inventory in both China warehouse and FBA warehouse can be centrally managed on THE direct delivery system, and FBA delivery work can also be operated directly on the system. increase.
The above new features and functional enhancements are scheduled to be implemented in "THE direct flight system official version".
Please look forward to the new THE direct flight system that will be even more convenient.
*Please note that this article is based on the current system development status, and may differ from the list of functions actually implemented in the new version.
THE Direct Flight
SNIFF GROUP