Even in Yiwu lockdown, "THE direct flight" can be shipped to Japan!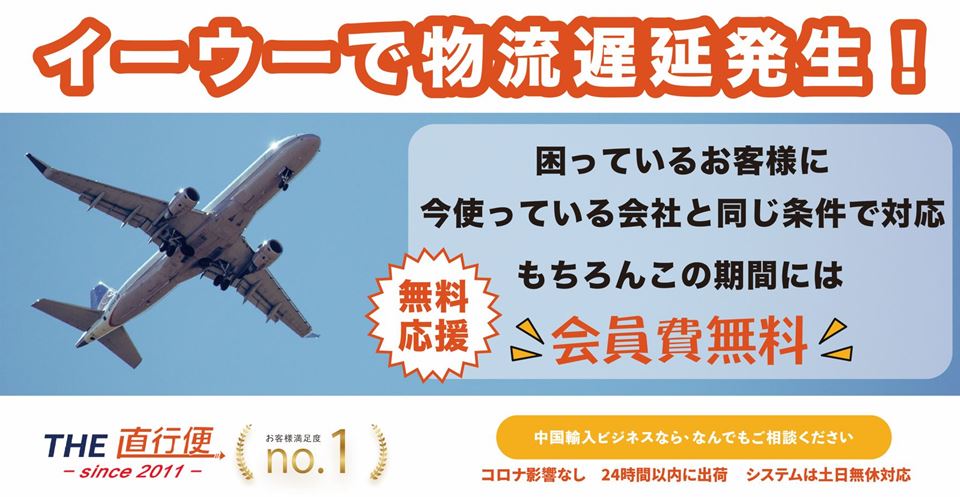 A new type of corona has occurred in Yiwu, and logistics are being delayed due to lockdown from August 11th!
There are 671 positive cases in the concentrated test, so Scheduled to be locked down until the 21st. If the number of infected people does not increase, there may be an early release, but If there are new infected people, it seems that the lockdown may continue after the 21st.
Currently, the local office of the Chinese import agency is closed, and the ordering, packing, and shipping operations are all delayed. Due to this logistics delay, the products sold in Japan will be out of stock, and if the products do not arrive in time for sales on Amazon, Rakuten, etc. next month, business will be hindered. It seems that there are many people who are in trouble because they cannot ship the products to Japan even though they have purchased them.
Sudden It's an emergency, but "THE direct flight" will solve the problem!
Since such a sudden lockdown occurs in China, it is necessary to avoid risks.
With THE direct flights, you can avoid risks because the logistics bases are distributed in "Hangzhou", "Guangzhou", "Shanghai" and "Tianjin"!
On THE direct flights, we have set up a hotline for those who are in trouble due to the sudden lockdown, and we will support customers with the following measures.
・On the day of your order, our Japanese staff will guide you and provide speedy delivery on the same day.
・If there is a lockdown in the area where we are currently purchasing, our membership fee is free during the period.
・If the agency you are currently using is out of business, we will respond with the same fee.
Our local Chinese staff speaks Japanese and will take responsibility for shipping from our warehouse to Japan, so please feel free to leave it to us. If you are in trouble because you cannot purchase, we will look for a supplier separately as much as possible after judging the situation.
As many of you know, Yiwu's main Fukuda market is 30 times the size of Tokyo Dome and has about 60,000 stores. There are a wide variety of products, including bags, home appliances, watches, kitchen utensils, toys, accessories, and handicrafts.
If Yiwu stops, it is said that the logistics delivery of about 30 million items per day will stop, so sales on EC sites such as 1688.com and Taobao may also be affected. Strong.
< strong> Please use the emergency support of "THE Direct Flight", the only agency that is not affected by Corona in this emergency!