A thorough analysis of Shopify, BASE, and STORES fees, fees, and functions with a comparison table! Find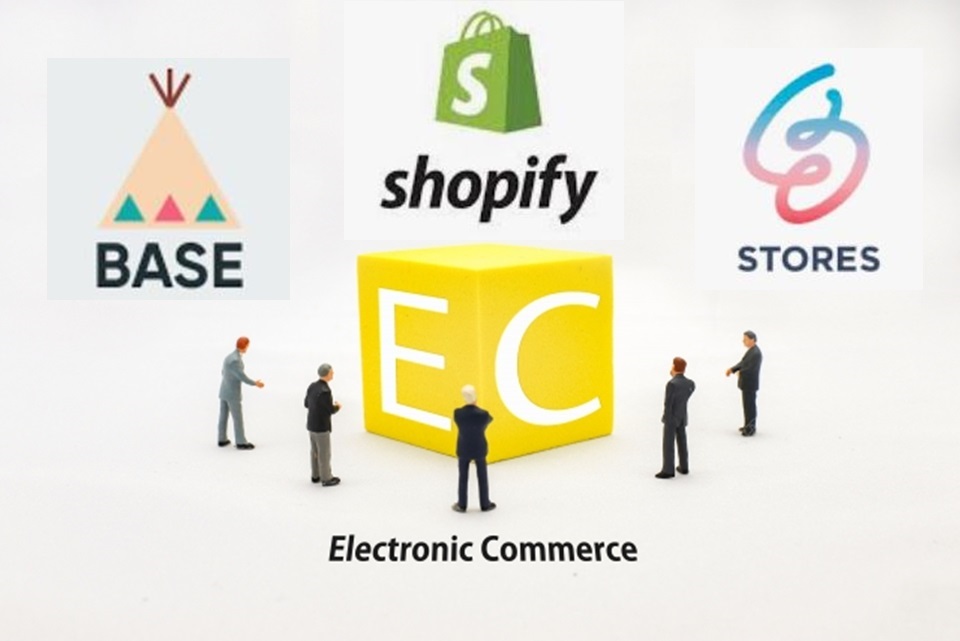 "E-commerce mall regulations are so strict that I can't sell freely"
"I want to freely collect and use customer data"
"I want to have my own e-commerce site soon and promote branding"
Even if you open a store at an EC mall, more and more companies and businesses are considering opening their own EC site due to such concerns.
However, there are many service companies that provide platforms for building EC sites, so you may be wondering which one to use.
This time, for such people, we will focus on the three most popular companies in recent years, Shopify, BASE, and STORES, and thoroughly analyze the service content provided by a comparison table.
Overview of Shopify/BASE/STORES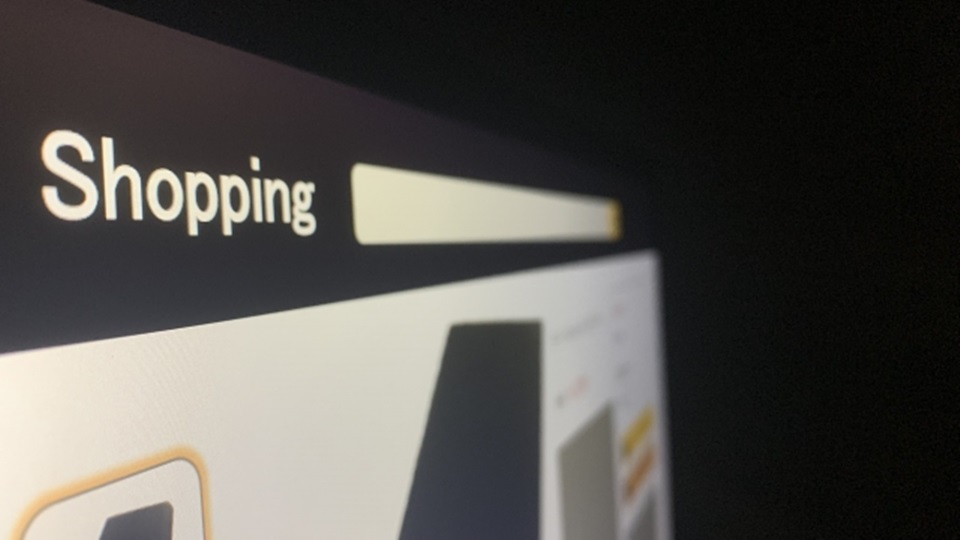 There are many companies overseas that provide services for building their own EC sites, but Canada's Shopify boasts the top share in the world.
In Japan, the number of companies providing similar e-commerce services has increased in the last 10 years, and BASE and STORES in particular are attracting a lot of attention.
Let's start with an overview of the three companies.
Shopify Overview
Shopify is an EC service founded in Canada in 2004.
Currently, it is an EC platform whose services are used in 175 countries around the world and over 1 million online shops are operated.
The company entered the Japanese market in 2017, and in April 2020, in collaboration with Rakuten, the management screen and support were available in Japanese.
Shopify has many features such as extensive functional expansion, highly accurate store analysis, abundant external services that can be linked, excellent cross-border EC functions, high design, and strong security.
There are five price plans for these services, providing an environment that can handle all businesses from individuals to large corporate e-commerce sites.
BASE Overview
BASE is a Japanese EC site construction service provided by BASE Co., Ltd., which was founded in 2012.
There are various ways to make it easy for anyone to build their own website, as the website says, "Online shop creation service that allows you to open a shop immediately just by filling in 3 items."
The number of online shops that have been opened as of January 2022 has reached 1.7 million because it is easy for individuals to open for free as long as they have an email address.
From April 2022, a new fee structure, the "Growth Plan," will be launched, and advantageous services will be provided to users who have increased the sales of the shop.
STORES Overview
SOTORES is also a Japanese EC site construction service operated by STORES Co., Ltd., which was founded in 2012.
It is an EC service that allows individuals to easily create an EC site, as the slogan is "a full-fledged online shop that you can create yourself".
There are two types of shops, a free plan and a paid standard plan, and it is a popular service with about 10,000 shops opening every month.
Let's take a look at the differences in the services of these three companies in the areas of fees/commissions, payment methods, site creation functions, customer attraction functions, and overseas support functions.
Comparison of services with rates/fees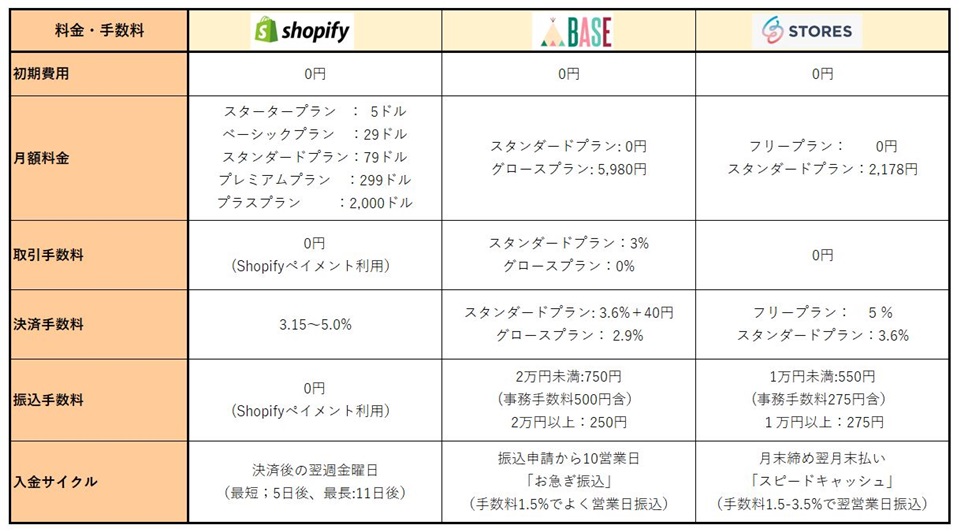 Comparison of monthly fees and transaction fees/settlement fees
In April 2022, Shopify and BASE will add a new monthly rate plan as follows.
Shopify
Legacy "Basic "," "Standard" and "Premium", the following "Starter Plan" and "Plus Plan" have been added.
・Starter Plan ($5/month)
Install a cart button on your existing website, blog, or SNS and provide only Shopify's sales function.
・Plus Plan ($2,000/month)
As a plan for stores with a large transaction volume and large companies, new conveniences such as function customization and the ability to open 10 sites with one contract have been added.
BASE
No monthly fee There was only the "Standard Plan", but the "Growth Plan", which has a monthly fee and low transaction and settlement fees, has been added. This can be expected to be advantageous for business expansion.
Comparison of services from three companies
The addition of additional plans by the two companies has made it difficult to simply compare the three services in terms of monthly fees and various fees.
The cost breakdown of each service will change depending on the monthly sales scale and usage plan of the online shop you operate. When judging the use of EC services based only on cost performance, it is a good idea to calculate the total of fixed costs (monthly fee) and variable costs (total of each fee).
Transfer fee comparison
The transfer fee is free by using Shopify's own "Shopify Payment", so it is more advantageous than other services.
Shopify supports 19 languages, while the other two companies only support English, so the difference is clear.
There is a monthly fee of 5,980 yen (tax included) to use the Growth Plan, but BASE
Deposit cycle comparison
Even in the deposit cycle, Shopify, which deposits on the next Friday after payment, is the most advantageous.
STORES is the most unfavorable condition because it takes up to about 60 days because it is "payment at the end of the next month". However, BASE and STORES can be deposited on the next business day by paying a fee.
Comparison of payment methods

The most popular payment method is Shopify, as shown in the table above. In particular, we are outstanding in ID payment.
With so many payment methods, the user's "cart abandonment rate" is greatly reduced, so it can be said that Shopify is the hardest to miss sales opportunities.
Cart abandonment rate: When a user purchases a product on an EC site, after pressing a button such as "add to cart", the user leaves the site without completing the purchase procedure.
Comparison of services for site creation

Number of registered photos
Shopify is overwhelmingly ahead of the other two companies with 250 product photo registrations. Shopify has the most advantage when it comes to highlighting product appeal in images.
Templates
In terms of template types, STORES is the most popular with 48 free templates, and BASE is the most paid template with 100 templates.
The design of the template is a matter of taste, and since Shopify is an overseas service, you may feel that there are many dynamic layouts.
Before deciding on an EC service, it would be a good idea to check the atmosphere of each company's design template in advance. The layout can be customized for any EC service, so it's okay if the priority is low.
For details, please check the website of each company from the URL below the sample image.

[Source: Shopify official website design template]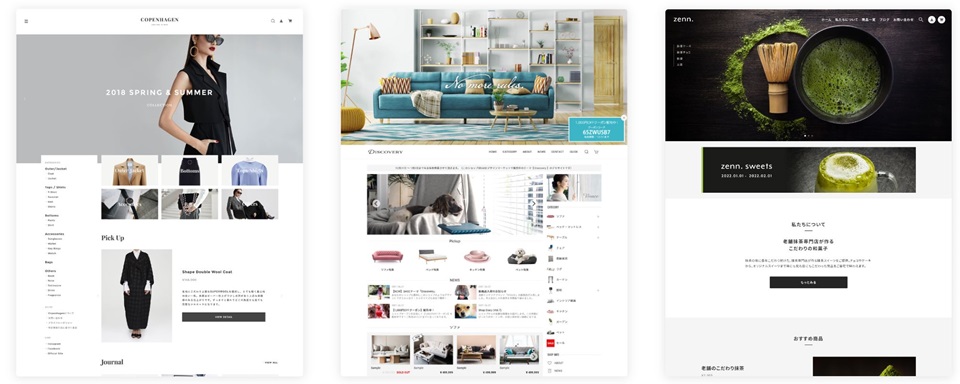 [Source: BASE official website design template]

【Sourse:STORES Official site design template】
HTML/CSS editing
Regarding site customization with HTML and CSS, STORES cannot be edited. If you want to change your site to your own, you should choose Shopify or BASE.
Service Comparison of Customer Attraction Features

Even if you build a beautiful online shop, it doesn't make sense if customers don't visit there. To do that, you need to attract customers with SEO measures.
Shopify and BASE come with customizable title tags and meta descriptions to support your SEO best practices. You can also attract customers by using the blog that can be created on the site.
STORES does not have a function to attract customers with page settings or blogs, so it is necessary to focus on attracting customers by utilizing SNS, e-mail magazines, and external blogs.
Comparison of overseas services

Languages ​​and Supported Currencies
Shopify supports 19 languages, while the other two companies only support English, so the difference is clear.
The supported currencies can be expanded to 34 types by installing the "English/Foreign Currency Support App" for BASE, 17 types for Shopify, and only Japanese yen for STORES.
Support
Since BASE and STORES are Japanese companies, you can receive support in Japanese, but Shopify is a Canadian company, so English support is basic.
However, you can rest assured that Shopify has the following Japanese support.
Choose an EC service that suits your purpose and budget

After comparing the three popular EC services, the table above lists the items that have a big difference.
The two important points when deciding which EC service to use are the purpose and budget of the EC site to be built.
From the table above, you can see that Shopify has many advantages over others, but if the monthly sales scale is not large or if you are not considering overseas expansion, other options may be more advantageous. I have.
Based on these, it would be a good idea to select the platform that is suitable for you based on the characteristics of each EC service.
Shopify is ideal for full-scale online shop management, including cross-border EC!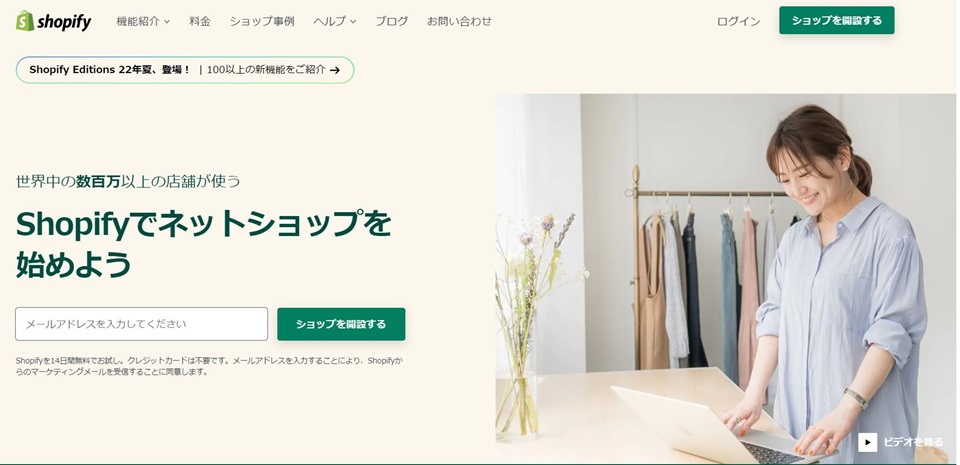 [Source: Shopify official website]
Shopify has five price plans, and even if the monthly fee is higher, each fee is cheaper. It is possible to upgrade the rate plan according to the growth of sales scale. Shopify offers many things that other companies don't have or that are excellent.
Variety of payment methods
In terms of payment, by using "Shopify Payment", you can use various payment methods such as Amazon Pay and Apple Pay that are not available in BASE and STORES.
Customize your EC site with over 4100 apps
In terms of site construction, Shopify has an app store called "Shopify app store" within the platform, and you can add various functions to your EC site.
For example, it is possible to improve efficiency by linking SNS and shopify, implementing a chatbot, billing application, batch management application for delivery, etc.
There are more than 4100 free and paid apps, so compared to BASE and STORES, you can customize your EC site more freely.
Excellent ability to attract customers
In terms of the ability to attract customers, it has a strong "cooperation with SNS", especially with Facebook and Instagram.
For example, it is equipped with many functions as an EC site unique to the world standard, such as directing to a shopping cart from chat support using Facebook messenger.
Overwhelmingly Abundant Overseas Support Functions
Since it is a platform that is used all over the world in terms of overseas support, it supports the languages ​​of 19 countries, supports 17 different currencies, and can also be shipped overseas.
In the future, it is the best service for those who operate their own net shop in earnest and for the long term with a view to cross-border e-commerce.
Base is recommended for beginners aiming to expand their business in the future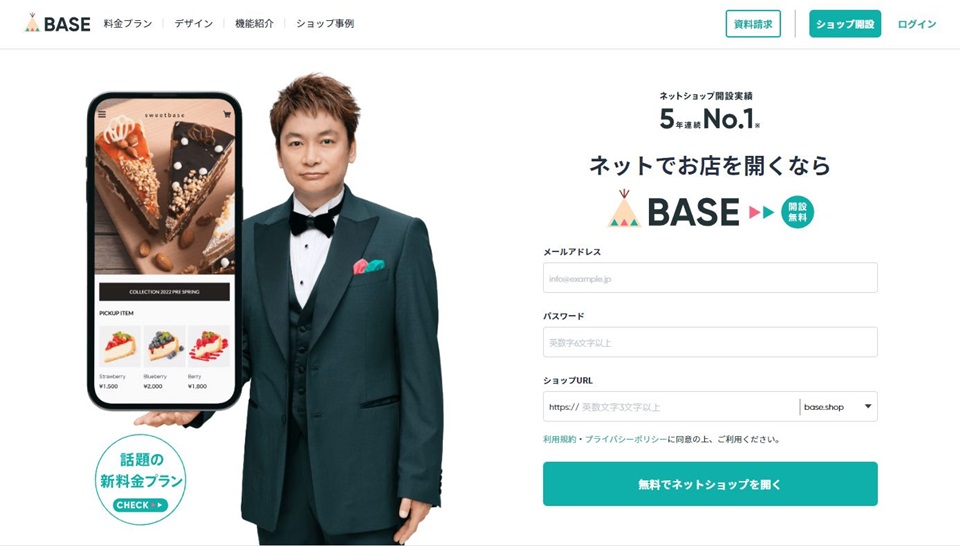 [Source: BASE official website]
As mentioned above, BASE added the "Growth Plan" in April 2022.
The available functions are the same as the free plan, but the transaction fee has been reduced from 3% to free, and the payment fee has been reduced from 3.6% + 40 yen to 2.9%.
The fees that occur for each sale in the online shop are the transaction fee and the settlement fee.
When they used the growth plan, it changed as follows compared to the past.
Before April 18, 2022 (6.6% + 40 yen): transaction fee (3%) + settlement fee (3.6% + 40 yen)
After April 18, 2022 (2.9%) : Transaction fee (free) + settlement fee ( 2.9%)
There is a monthly fee of 5,980 yen (tax included) to use the Growth Plan, but BASE says that the sales scale of the shop is 1 per month.If it exceeds 70,000 yen, we can keep operating costs lower than the standard plan."
In addition, it is possible to make an annual contract with a lump-sum payment for the Growth Plan.
If you start with the free standard plan and change to the growth plan when your monthly sales exceed 170,000 yen, you can efficiently expand your business.
It is convenient to use e-commerce services to build an online shop, but it takes time to generate the first sales, including site design selection, product registration, and attracting customers through SEO measures.
So, for beginners, it is a great advantage to be able to prepare an online shop using the free standard plan first, and then move to the growth plan after sales are on track.
STORES is recommended for having an online shop as a side business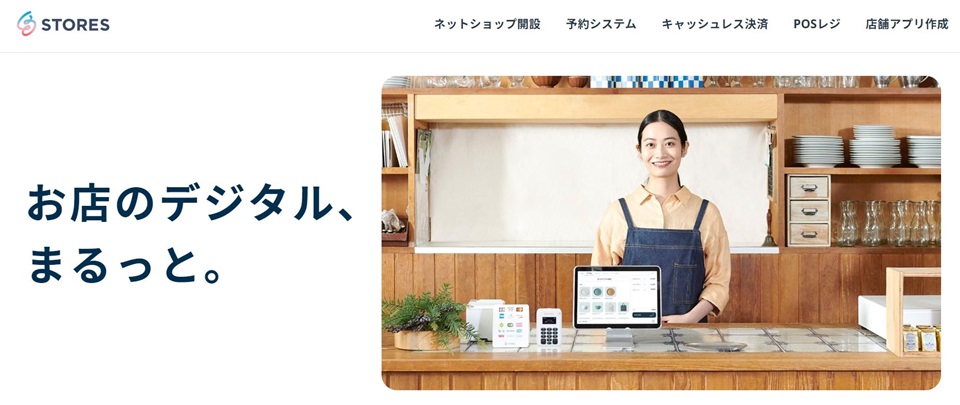 [Source: STORES official website]
STORES, like BASE, is a cost-effective e-commerce service with no monthly fee.
Comprehensively, it is inferior in each fee, site construction function, customer attraction function, etc., and overseas correspondence is not sufficient.
However, the usage fee for the paid plan is the lowest price compared to other services, and the basic functions necessary for operating an online shop are complete.
Therefore, it is recommended for those who operate an online shop with a monthly sales scale of about 100,000 yen, which is a side business level for the domestic market.
Even if you start for free and switch to a paid plan, the monthly usage fee is low, so you can continue with peace of mind even if your sales are not large.
Above all, the platform is designed for beginners, and there are no difficult operations to create an online shop intuitively. In addition, STORES is the only place where you can consult with an online shop specialist over the phone before or after applying, which is a reliable support for beginners.
"The direct flight" has a business partnership with Shopify, BASE, and STORES
Our company "THE direct flight", which is an import agent in China, has a business tie-up with Shopify, BASE, and STORES introduced in this article.
In particular, we have an API linkage with Shopify and BASE, and we provide the following automatic services free of charge to customers who use our services in the Chinese import business.
Automation of ordering operations by automatically importing order data from Shopify/BASE stores
Batch registration of products to Shopify/BASE stores improves operational efficiency
Reduces data entry work by automatically reflecting shipping information to Shopify/BASE stores
You can check product information, purchase price, and stock status of Taobao and 1688.com
You can refer to the following article on our website for details on API linkage.
・Realize automatic order processing with API linkage!
By using our service, it will be possible to significantly improve the efficiency of those who import and sell products from China using Shopify/BASE.
Also, in recent years, more and more companies and business owners are aiming to sell their own products directly on their own website, called D2C, from business forms such as "B2C" and "C2C".
There is such a background to the growing popularity of EC services such as Shopfiy, BASE, and STORES.
Individuals can develop their own products relatively easily by using OEM factories in China. You can refer to the following article for details of the D2C business, so please refer to it.
・What is D2C? A thorough explanation from the basics of the business that is currently attracting attention to its use in importing from China!
Our company provides general services related to importing from China, so please feel free to contact us if you are interested.
Summary
The trend of the times is shifting from store sales to online shop sales, and peripheral businesses related to the construction of EC sites are also increasing.
Shopify, BASE, and STORES are representative companies that provide services for building EC sites, and this time, we compared their services in detail.
Each of the three companies has its own characteristics, so it is a good idea to refer to the above information and use them according to your purpose and budget.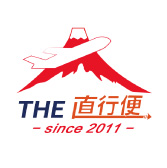 Until the end Thank you for reading!